Selection and storage
Acorn squash available around the year in the markets. Buy fresh, medium-size fruits with intact stems. Avoid damage, cuts and punctured, spots, bruise, etc.
At home, cured acorn squash can stay fresh up to 3 months when kept in a cool, dry storage area you do for other winter squash like butternut, pumpkin, etc.
Cut sections, however, should be used immediately. Or else, you may prefer to keep inside a plastic wrap in the refrigerator set at high relative humidity for extended use (for 2-3 days).
Preparation and serving methods
At home, wash fruits in cold water to remove any surface sand and dirt. Trim the stem end. Being a winter squash member, the acorn has tough skin, which should be peeled carefully using a knife.
Cut the fruit into small cubes, wedges, or just in halves as you may desire to use them in cooking. It is sought after in a variety of recipes such as mashed, pureed, stuffed, grilled, roasted, etc.
As in other squash, acorn flowers, baby fruits, and young tender shoots and tendrils are also an edible delicacy. In general, male blossoms are picked up for making fritters, stuffing, etc. To prepare, open up flowers and carefully inspect for insects. Pull off any calyces firmly attached at the base.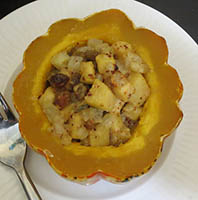 Acorn squash stuffing recipe. Courtesy: mlcastle.
Here are some serving tips:
Fresh, tender, thin slices acorn squash can be added to vegetable salads.

The squash blossoms dipped in chick-pea flour batter, fried in oil and enjoyed as delicious snacks.

As in pumpkin, it can be employed in pies, casseroles, cakes, pudding, etc.

The fruit cut in halves, scooped off seeds, and stuffed with cheese, mushrooms, and herbs, and baked in oven.

Acorn squash kernels can be eaten as snack. Simply toast the seeds in the oven and enjoy!
Safety profile
Allergic reactions to acorn squash are rare. Pregnant women and infants can safely consume it. (Medical disclaimer).
≺≺- Also read Spaghetti squash nutrition facts.
≺≺ -Back to Vegetables from Acorn Squash nutrition. Visit here for an impressive list of vegetables with complete illustrations of their nutrition facts and health benefits.
≺≺ -Back to Home page.

Further reading:
Texas A&M AgriLife Extension (PDF).
---
---