Selection and storage
Feijoa season varies from place to place. In Brazil, they hit the market by late March and available until July. In New Zealand, their season lasts from March to June although available in the supermarkets for extended periods.
In the stores, look for fresh arrivals. Select dark green, ellipsoid-shaped fruits. They should emit a distinctively fruity aroma that can be appreciable from a distance. Look carefully for bruises, cuts, and surface blemishes and avoid them. The fruit is said to be ripe when it just yields to gentle thumb press.
Once mature and ripen, feijoa perishes early if stored outside at room temperature for more than two days. If not consumed soon, it should be kept in the refrigerator for up to 1-2 days. In the deep freezer, however, they can keep safe for a couple of months.
Preparation and serving methods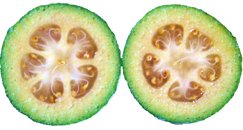 Feijoa fruit cut section. Courtesy: Pingked
To prepare, select the fresh, ripe fruit. Gently wet and mop dry. Cut the fruit into halves using a paring knife. Scoop the juicy pulp using a spoon as you do in case of sapodilla. Its flesh features a sweet, sour taste, with a sandy texture. Its skin, although edible, is generally discarded.
Here are some serving tips:
Eat the fruit out of hand to enjoy its natural flavor and unique taste.

It can be juiced to a delicious drink.

Its aromatic slices can be a great addition to salads.

It can be added in the confectionary in muffins, and cakes.

It can be used in the preparation of puree, jellies, jams, chutnyes, juices, sorbet, etc.
Safety profile
Feijoa fruit consumption has no known adverse effects on human health. Pregnant mothers and infants can safely eat this fruit. (Medical disclaimer).
≻≻-Back to Fruits from Feijoa. Visit here for an impressive list of all varieties of fruits with complete illustrations of their nutrition facts and health benefits.
≻≻-Back to Home page.
Further reading and Resources:
Stanford School of Medicine Cancer information Page- Nutrition to Reduce Cancer Risk.
---
---