Selection and storage
Fresh wasabi stems are rare ingredients outside of Japan. A renewed interest has been gathering strength in the cultivation and awareness regarding the health-promoting properties of this rhizome across the world. In Japan too, only a small number of restaurants serve wasabi dishes, and not much aware of the fact that the green paste (sauce) on the sashimi is not wasabi but actually a colored horseradish and mustard paste. The fresh root is available only from the selected farmer's markets in and around Shizuoka prefecture in Japan.
If you find wasabi in your neighborhood's markets, buy fresh, firm rhizome, preferably with the top greens attached. Avoid slump roots.
At home, keep the whole fresh, as well as the unused portion of the rhizome in the refrigerator where it can keep well for about 2-3 weeks. As in other roots like radish, severe top greens from the root soon at home. Wasabi leaves and stalks, however, should be used quite early.
Preparation and serving methods
Before use, scrub fresh rhizomes thoroughly in cold running water to remove surface dirt and soil. Peeling of the skin may not be required. Just trim any protruding knobs on the surface.
Wasabi roots are one of the most sought-after ingredients in Japanese cooking. Although its leaves and petioles are a part of the cuisine, it is its green rhizome, which is actually the jewel in the crown!
Wasabi paste
As in horseradish, the pungency and hotness of wasabi may not be appreciable in the whole root. However, crushing and mincing its rhizome releases the volatile allyl-isothiocyanate compound that can cause irritation to eyes, skin, mucosa of the nose, and throat. Vinegar or citric acid neutralizes pungency and stabilizes its flavor. In practice, it should be grated fresh to serve in the dishes. Fresh rhizome grated traditionally on a sharkskin grater in a circular motion to prepare a fine paste. In order to appreciate its profound favor, freshly prepared wasabi served after about 4-5 minutes after its preparation.
Like in many other spices, wasabi also loses its flavor quickly due to the evaporation of essential oils. In order to keep the fragrance and flavor intact, it is generally mashed just before preparing dishes.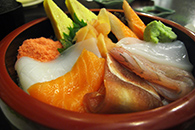 Wasabi-paste on sashimi.
Here are some serving methods: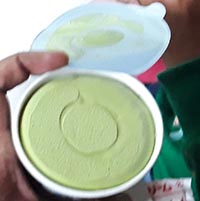 Wasabi icecream!
Traditionally, freshly grated wasabi, as a paste, is served on sashimi.

As in horseradish, this root too used in many preparations, including dips, dressings, salads, and sauces as an accompaniment to meat, chicken, and seafood.

Fresh wasabi leaves and stalks can be can be used in pickling.

Add its paste to mayonnaise, and lemon juice to prepare a refreshing dip to be served with asparagus, snap peas, French beans, etc., and on grilled meats, seafood.

Prepare wasabi vinaigrette dressing to serve over salads.

Wasabi peas, wasabi paste coated green peas, are a popular snack. Wasabi flavored chips are another great snack in Japan, and Korea.
Safety profile
Allergic reactions to wasabi root are relatively rare. However, a few incidences of allergy to horseradish and W. japonica have been reported. It should be avoided in individuals who are intolerant to this root or its products.
As in horseradish, W. japonica also can cause irritation to skin, mucosa, and eyes. This is so because of the release of allyl sulfide gas (allyl-isothiocyanate) while chopping, crushing, or grating the root. During grating, disruption of the cell wall activates myrosinase enzyme, which when reacts with glucosinolates, produces allyl isothiocyanates. A dash of lemon citrus or vinegar can check this reaction and stabilizes the flavor. Its effect can be minimized by using a blender/mixer in a well-ventilated place and wearing protective gloves and a mask. (Medical disclaimer).
≺≺ Back to Spices from Wasabi. Visit here for an impressive list of healthy spices with complete illustrations of their nutrition facts and health benefits.
≺≺ Back to Home page.
Further reading:
Comparison of flavour compounds in W.japonica and horseradish-pdf.

Leaf Extract of W. japonica Relieved Oxidative Stress Induced by Helicobacter pylori Infection and Stress Loading in Mongolian Gerbilsits growth.
---
---