Selection and storage
Soybean pods enclose very hard seeds of variable color. In the markets, choose dried beans in packets/bins. Sprouted, toasted soybeans are also found in these shops all year round
Fresh green soy (edamame) beans can be found in the Japanese and other East-Asian markets. Inside the US, however, frozen beans in vacuum packs, or frozen shelled edamame beans (mukimame) can be available in supermarkets.
At home, store dry beans in an air-seal plastic/metallic bin in a cool, dry place away from high temperatures and high humidity.
Use young, tender edamame soon after purchase.
Preparation and serving methods
Soybeans require a period of soaking beforehand, which slightly reduces the cooking time, preserves vitamins and minerals, and reduces flatulence.
Dried soybeans require at least one hour of cooking time. They are cooked when they can be easily crushed with a spoon.
Soy granules are soybeans whose outer husk has been removed before being milled into granules. Soybean sprouts are ready to eat after germinating for a few days. They are being used in the same way as mung bean sprouts. Soy flour is a gluten-free product that contains 2-3 times more protein than wheat flour.
Here are some serving tips: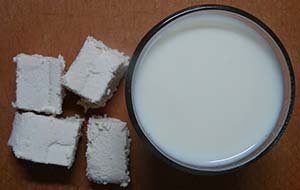 Soybeans.
Boiled soybeans and soy chunks added in stews with vegetables and poultry.

Soy milk is a popular health drink.

Soy sauce is made from fermented soybeans. It is used as a condiment in recipes all over the world.

In Japan, specialty restaurants serve tofu recipes like yodofu, mabodofu, agedashidofu, etc.

In the US, Soy granules are added to soups, stews, spaghetti sauces, cookies, and bread.

Tempeh is Indonesian fermented soybean cake, served fried with seasonings.

Soybean sprouts are eaten raw or lightly cooked, added in salads, and stews

Soy flour is used in small quantities to bind sauces or to make cakes, muffins, and cookies and as an enriching ingredient.
Safety profile
Soy seeds and their products are one of the most common allergenic food substances around. Symptoms of Soybean allergy are a kind of hypersensitivity reaction in some people to food substances prepared with soy. Common reactions may include allergic skin problems like urticaria, hives, and eczematous dermatitis. In severe cases symptoms may include vomiting, gastritis, pain abdomen, swelling of the lips and throat leading to breathing difficulty, wheezing, chest congestion, and in rare cases may lead to death. It is, therefore, people with known soy product allergies may be advised to avoid any food preparations that contain soy food.
Fresh soybeans contain anti-nutritional elements that are neutralized by cooking and fermentation. (Medical disclaimer)
You may also like to read ≻≻-
≺≺ Back to Legumes from Soybean nutrition. Visit here for an impressive list of legumes with complete illustrations of their nutrition facts and health benefits.
≺≺ Back to Home page.
Further Resources:
Stanford School of Medicine Cancer information Page- Nutrition to Reduce Cancer Risk.
---
---