Selection and storage
Dried annatto seeds in packs and bins of various brands available in the US stores year-round. Choose brick red seeds from an authentic company, which has a nutrition chart and expiry date label. One may also buy ready-to-use ground annatto powder, paste, or oil (annatto cheese colorant).
Once at home, annatto powder can be stored in an air-seal container and placed in a cool dark place away from sunlight and humidity. Store annatto water and oil in a cool dark place for immediate use or in the refrigerator for extended usage.
Preparation
The seeds washed and dried from the pulp separately from the pulp for culinary use. In England, it is used to color dairy produce such as Red Leicester and Cheshire cheeses.
Culinary uses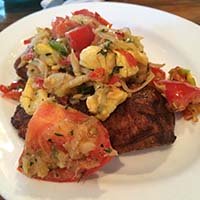 Saltfish and Ackee
Photo courtesy: Arnold Gatilao (flickr.com)
Annatto imparts a wonderful color to oil when fried for a few minutes. The seeds are infused in hot water until the desired intensity of the color is achieved. This colorant then added to various dishes as a substitute for saffron.
Annatto has several industrial applications. It is used to color cheeses (ex. Colby and cheddar), sauces, butter, margarine, mayonnaise, sausage, soup, juice, ice-cream, and confectionaries.
The famous Jamaican national dish of saltfish (cod) and ackee is served in a vibrant sauce colored with annatto.
The Spanish introduced this spice to Filipinos, who use it extensively in their cuisine.
Safety profile
Consumption of dishes prepared using an annatto colorant is safe, and allergic reactions are rare to occur.
(
Medical disclaimer
).
≻≻- Back to Spices from Annatto. Visit here for an impressive list of healthy spices with complete illustrations of their nutrition facts and health benefits.
≻≻- Back to Home page.
Further references and reading:
Traditional Uses, Chemical Constituents, and Biological Activities of Bixa orellana L.: A Review (opens in new window).

Effects of Annatto (Bixa orellana L.) Seeds Powder on Physicochemical Properties, Antioxidant and Antimicrobial Activities of Pork Patties during Refrigerated Storage.

Gernot-Katzer's spice pages. (Opens in new window).
---
---