Custom Search
Burdock root nutrition facts
Burdock root is an underground tuber of greater burdock plant that found its use as a vegetable and medicinal herb. The plant burdock is a short biennial which believed to be native to the Northern Europe and Siberia. In Japan, popular as gobo, it is being cultivated on a larger scale as a major root herb since earlier times. In the botany, however, burdock sighted as a wild, easy-growing, hardy plant existing in almost all parts of the planet.
Botanically, burdock belongs to the family of Asteraceae; in the genus of Arctium, and known scientifically as Arctium lappa.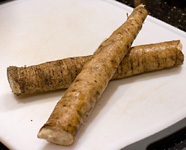 Burdock roots. Note for woody, firm roots with crispy white color flesh.
Photo courtesy: fitkitchen
Greater burdock plant grows about a meter in height. Its broad, heart-shaped, coarse leaves feature deep-green on the top and light green on the underside similar to that of in rhubarb. In the summer, its thick hairy stems of about 5 feet in length bear red-purple tubular flowers, which subsequently develop into seed-heads or burrs with hooked spines. Close to its harvesting time, a deep taproot grows to a size measuring about 2-3 feet in length. It features thin, brownish root, similar in shape as that of carrot or parsnip.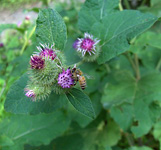 Burdock plant- Arctium lappa. Note for broad leaves and lavender color flower heads.
Photo courtesy: homeredwardprice
Of the four species of Arctium, only greater burdock (A. lappa) and lesser burdock (A. minus) cultivated for their herbal parts. In general, its roots are unearthed in the fall, slow-dried and stored for use during the winter. The burdock root has a flavor that closely resembles the sweet taste of jerusalem artichokes or parsnips, and features crispy texture with a sticky consistency.
Almost all the parts of the plant are being used either meant for culinary purpose or as a curative remedy for certain medical conditions.
Burdock root health benefits
Medicinal uses
Selection and storage
Burdock roots can be readily available in the Japanese supermarkets year around. However, in The USA, one may find dried roots only in selected vegetable markets or in some special oriental herb stores.
In general, roots of about 2 feet long and about 1 inch in diameter kept in the markets for sale. Choose medium sized, firm, unbroken roots with taut skin. Avoid overly dry or sunken ones as they may be off flavored.
Cleaned, dry roots stay fresh for several months if kept in a cool well-ventilated place. Processed parts/slices, however, should be stored in the refrigerator and used as early as possible.
Preparation and serving methods
On the exterior, burdock root features dark brown "bark like" color and has a woody texture. Inside it features crunchy, milky-white fibrous flesh, which may turn gray upon exposure to air. To avoid this while cutting, drop burdock slices/pieces/julienne into lemon water to prevent oxidation.
To prepare; wash the entire length of the taproot thoroughly in cold water and scrape off the outer skin using a paring knife. Burdock root is tough and should be tenderized before its use in cooking. To soften, cook the root in boiling water with a single teaspoonful of baking soda added to a liter of water. Thus, the prepared root is then can be eaten as is, or added to salads, soups, etc.
Here are some serving tips:
Safety profile
Burdock root can be safely used in healthy individuals without any reservations. However, in patients on potassium-sparing diuretic therapy, it may aggravate potassium toxicity. The whole plant may elicit allergic reactions in some sensitive individuals. (Medical disclaimer).
<<-Back to Healthy herbs from Burdock root. Please visit here for impressive list of healthy herbs with complete illustrations of their nutrition facts, medicinal properties and health benefits.
<<-Back to Home page.
Visit here for very informative pages on:-
Further Reading:
1. USDA National Nutrient Database.
2. Common burdock- Penn State Extension.