Selection and storage
Borage should be fresh for its use in salads and cooking. While buying from the markets, look for fresh herb leaves with stout, succulent stem and delicate cucumber flavor that can be appreciated from a short distance.
Much like other greens such as spinach, borage can stay fresh only for a few hours and loses its flavor rather sooner. Unlike in other herbs like oregano where dry herbs (leaves) and powder can be added to cuisine, dried borage leaves are out of flavor, and therefore, avoided.
Avoid sunken, yellow, or dried leaves as they are out of flavor.
Once at home, store borage, as you do it for spinach or like any other greens.
Preparation and serving methods:
Wash fresh herb in cold running water or rinse for a few minutes to remove any dirt or pesticide residues. The herb can be used in large quantities like other green vegetables. Remove tough leaves and stem using a paring knife.
Here are some cooking tips: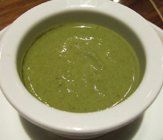 Mediterranean green sauce-salsa verde.
Photo courtesy: toyohara
Young tender borage leaves can add delicate cucumber flavor to the salads.

Mature but tender leaves can be employed as a green vegetable in much the same way as spinach. It mixes well with other greens, french beans, carrots, potato, tomato, etc.

Tender leaves used to make fresh juice with added lemonade.

Borage flowers are often mixed in batter and fried in oil to delicious fritters. They can also be candied.

Borage is one of the common ingredients along with parsley, chervil, chives, watercress, sorrel, and salad burnet in the preparation of traditional German green sauce.

Fresh herb can also be added to sausages, pizza and in poultry stuffing.

Borage tea is popular refreshing drink in the European countries.
Medicinal uses of borage herb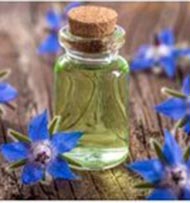 Borage oil
Borage herb parts, especially its seeds contain important health-benefiting essential oil such as gamma-linolenic acid. This omega-6 fatty acid (18:3 fats) has recommended in the treatment of arthritis, dermatitis, pre-menstrual painful conditions, etc.

An infusion of leaves and seeds is used in traditional medicines to increase breast milk secretion in nursing mothers. (Medical disclaimer)
Safety profile
The borage herb contains certain compounds, which when taken in large quantities, may affect kidney functions (possible diuretic effect). (Medical disclaimer).
≻≻-Back to Herbs from Borage. Visit here for an impressive list of all varieties of herbs with complete illustrations of their nutrition facts and health benefits.
≻≻-Back to Home page.
Further Resources:
Starflower- antioxidants-B. officinalis L.
---
---