Custom Search
Bay leaf nutrition facts
Pleasantly aromatic bay leaf or bay-laurel is one of the well-recognized culinary leaf-spices in use since the earliest times. In the legends, bay laurel is deemed as the tree of the Sun god, under the celestial sign of Leo.
Botanically, bay tree belongs to the family of Lauraceae, in the genus; Laurus. It is thought to have originated in Asia Minor region, from where it distributed to all over the Mediterranean region and other parts of Asia.
Scientific name: Laurus nobilis.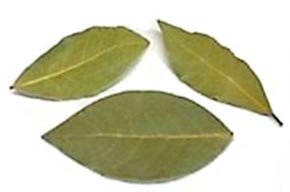 Bay leaf plant. Note for dark green leaves with flower buds. Photo courtesy: ndrwfgg
Bay laurel is a tall, conical, evergreen tree growing up to 30 feet in height. Yellow or greenish white, star-shaped flowers appear in clusters during early spring, which subsequently produce dark-green to purplish, single seeded berry. Its thick and leathery leaves feature elliptic shape, shiny, dark-green and measure about 3-4 inches in length.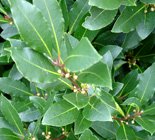 Bay leaves (Laurus nobilis). Note for deep green color slightly wilted leaves.
Bay leaves give off a pleasing and sweet aroma when added to the recipes. Wilted and dried leaves indeed are strongly aromatic and can be stored for months. Its dried fruit (berries) can also be employed as a flavoring agent in the cuisines.
Health benefits of bay leaf
Bay leaf was highly praised by the Greeks and the Romans, who deeply believed that the herb symbolizes wisdom, peace, and protection.

The spice contains many notable plants derived compounds, minerals and vitamins that are essential for optimum health.

This spice has many volatile active components such as a-pinene, ß-pinene, myrcene, limonene, linalool, methyl chavicol, neral, a-terpineol, geranyl acetate, eugenol, and chavicol. These compounds are known to have been antiseptic, anti-oxidant, digestive, and thought to have anti-cancer properties.

Fresh leaves are very rich source of vitamin-C; provide 46.5 mg or 77.5% of RDA per 100 g. Vitamin-C (ascorbic acid) is one of the powerful natural anti-oxidant that help remove harmful free radicals from the body. Ascorbic acid also has immune booster, wound healing and anti-viral effects.

Furthermore, its fresh leaves and herb parts are very good in folic acid; contain about 180 mg or 45% of daily-recommended values per 100 g. Folates are important in DNA synthesis and when given during the peri-conception period, they can help prevent neural tube defects in the baby.

Bay leaves are an excellent source of vitamin A; contain 6185 IU or 206% of recommended daily levels per 100 g. Vitamin A is a natural antioxidant and is essential for healthy visual sight. It is also required for maintaining mucusa and skin health. Consumption of natural foods rich in vitamin A has been found to help to protect from lung and oral cavity cancers.

The spice is indeed a very good source of many vitamins such as niacin, pyridoxine, pantothenic acid and riboflavin. These B-complex groups of vitamins help in enzyme synthesis, nervous system function, and regulating body metabolism.

This noble spice is a good source of minerals like copper, potassium, calcium, manganese, iron, selenium, zinc and magnesium. Potassium is an important component of cell and body fluids that helps control heart rate and blood pressure. Manganese and copper are used by the body as co-factors for the antioxidant enzyme, superoxide dismutase. Iron is essential for red blood cell production and as a co-factor for cytochrome-oxidase enzymes.
Medicinal uses of bay leaf
Medicinally, the benefits of the bay leaf and its berries are plentiful. It has astringent, diuretic, and appetite stimulant properties.

Essential oil from the bay leaves contains mostly cineol (50%); furthermore, eugenol, chavicol, acetyl eugenol, methyl eugenol, a- and ß-pinene, phellandrene, linalool, geraniol and terpineol are also found.

Infusions of herb parts are reputed to soothe stomach ulcers and help relieve flatulence and colic pain.

The lauric acid in the bay laurel leaves has insect repellent properties.

The components in the essential oil can also be used in many traditional medicines in the treatment of arthritis, muscle pain, bronchitis and flu-symptoms.
Selection and storage
Traditionally, bay leaves are picked and dried slowly under the shade away from direct sunlight in order to retain their volatile essential oils.
In the spice stores, one might come across different kinds of bay leaf preparations. Completely dried, dried and crushed, freeze-dried, and ground forms are displayed for sale in such stores. Buy from authentic sources and avoid those with off-smell, spots, or fungus infected leaves.
Once at home, store bay leaf in airtight jar or container and keep away from direct light. Its leaves should not be stored for longer than a year since they will then lose flavor.
Its dried fruits are also being used as a flavoring in dishes.
Culinary uses
Glossy, dark-green bay leaves can be used fresh. However, they are at their best after being allowed to wilt under the shade for few days when their bitterness has gone but the leaves still retain their pleasing aroma.
If you find leaves in the cooked food, just keep them aside before eating. The laurel leaves are leathery in texture and tough to chew and swallow, besides being quite strongly flavored.
Here are some serving tips:
Bay leaf is one of the ingredients in bouquet garni along with thyme, sage, savory, celery, basil, etc.

The spice is also used in the preparation of court bouillon. Court bullion is readymade preparation made of water, salt, white wine, vegetable aromatics (onion and celery), and flavored with bouquet garni and black pepper.

Its dried leaves are brewed into an herbal tea.

Bay laurel is also an essential ingredient in many classic sauces such as bread sauce, tomato sauce, and béchamel.

Bay leaves are added to flavor cuisines such as seafood, poultry, meat, rice (pulov), and vegetable dishes.

Bay leaf is used to flavor sweet dishes like sweet breads, custards, creams, etc.
Safety profile
Bay leaves should be removed from the food before serving since they may cause choking, may cut tongue and injure digestive tract. Pregnant women should avoid eating them in excess as the chemical compounds in them may cause abortion.
(Medical disclaimer: The information and reference guides on this website are intended solely for the general information for the reader. It is not to be used to diagnose health problems or for treatment purposes. It is not a substitute for medical care provided by a licensed and qualified health professional. Please consult your health care provider for any advice on medications.)
<<-Back to Healthy spices from Bay leaf. Please visit here for an impressive list of healthy spices with complete illustrations of their nutrition facts and health benefits.

<<-Back to Home page

Visit here for very informative pages on:-
Further Resources:
1. USDA National Nutrient Database. (opens in new window).
2. Gernot-Katzer's spice pages. (Opens in new window).