Selection and storage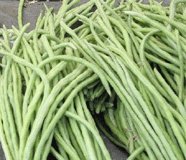 Light green color fresh yard long beans in a market. Photo courtesy: Gary Stevens.
Yard long beans generally are harvested while the pods are at their immature stage, just before full development. Hence, they tend to perish early if kept open for a few hours. In the farms, the beans are transferred to cold storage facilities soon after harvest.
Fresh, tender beans can be readily available year-round in farmer markets all over Asia. In the USA, however, you may find them in selected markets that specialize in Asian/ Cantonese vegetables or some supermarkets supplying them from the West Indies. They generally sold in loosely tied small bunches.
Choose smooth, firm yet flexible, fleshy, long, and uniformly green immature pods. Avoid mature, tough, flabby, yellow, or shriveled pods as they indicate old stock, and hence, out of flavor.
Once at home, treat them as you do for French or green beans. Store in a plastic bag and place in the refrigerator set at optimal humidity where they stay fresh for 2-4 days.
Preparation and serving methods
Young yard-long (asparagus) beans generally treated like other common vegetables in cooking. To prepare, swish the beans in a bowl of fresh water. Mop them dry using a paper towel. Trim the ends. Cut the beans into desired lengths using a paring knife.
Yard long beans feature in almost all the parts of East Asian cuisine. They impart unique beany flavor in the dishes.
Here are some serving tips:
Very tender, raw yard long beans can be eaten in salads. Sautéed or steamed, they can be served as a side dish with fish, seafood, and poultry.

Braise the beans with fish sauce, Chinese fermented black beans, chili and soy sauce is a classic Cantonese style cuisine.
Safety profile
Yard long beans and plant parts can be safely consumed by all healthy persons without any reservations. However, individuals with known immune-allergy to legumes and in G6PD-enzyme deficiency disease (favism) should avoid eating them. (Medical disclaimer).
≺≺ Sugar snap peas nutrition facts and health benefits.
≺≺ Fava beans nutrition facts and health benefits.
≺≺ Back to Vegetables from Yard Long Beans. Visit here for an impressive list of vegetables with complete illustrations of their nutrition facts and health benefits.
≺≺ Back to Home page.
Further reading:
USDA National Nutrient Database.
---
---