Selection and storage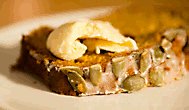 Pumpkin seed pie.
Photo courtesy: kennymatic.
Pumpkin seeds can be readily available in stores all around the year. You may find whole seeds, hulled, roasted, etc., displayed in the grocery stores. In the Latin Americas, hulled and roasted pumpkin seeds are referred to as pepita.
While buying whole seeds look for uniform, compact, cream-white, or light yellow color seeds that feel heavy in hand and give a good metallic sound.
Avoid thin, small-sized, shriveled seeds as they yield poor-quality kernel. They should be free from cracks, mold, and spots and free of rancid smell.
Whole seeds keep well for few months placed in a cool dry place. However, hulled pumpkin kernels deteriorate soon if exposed to warm, humid conditions; therefore, should be put in an air-seal container and stored in the refrigerator.
Culinary uses
Whole as well as hulled pumpkin kernels are being used in a variety of recipes worldwide.
Here are some serving tips:
Raw kernels can be enjoyed as healthy snacks. Whole seeds can equally be enjoyable when roasted.

Also, the kernels can be salted or sweetened. In Mexico, the seeds are usually toasted and flavored with salt, lime, or chili peppers, and eaten as snacks.

Pumpkin seeds are one of the ingredients in the Mexican mole sauce.

Just like other nuts and seeds, they can also be used in granolas, biscuits, bread, cookies, casseroles or baked goods.

The seeds also used in salads especially sprinkled over fruit/vegetable salads.

You may add them to desserts, particularly sundaes and other confectionaries.

The seeds are frequently added to enrich in meat, poultry, rice, and vegetable dishes.

Pumpkin seed oil is used in salad dressing as well as in cooking. In Austrian-Styria, the oil is mostly used to add to soups and salad dressings along with vinegar, salt, and minced garlic.
Safety profile
Unlike tree nuts allergy, it is rare to find true pumpkin-seeds allergy incidences. However, a few allergic symptoms may appear in some known sensitive persons due to antigenic cross-reactions with some other nuts, seeds, and fruits, especially of Anacardiaceae family such as mango, cashew nuts, pistachio, etc. Persons with a previous history of allergic reactions to these seeds and nuts may, therefore, need to observe caution. (Medical disclaimer).
You may also like to read:-
Pumpkin nutrition facts and health benefits.
≺≺Back to Nuts and seeds from Pumpkin seeds nutrition. Visit here for an impressive list of nuts with complete illustrations of their nutrition facts and health benefits.
≺≺Back to Home page.
Further Resources:
Stanford School of Medicine Cancer information Page- Nutrition Composition of the Pumpkin Kernels- Journal of Horticulture Letters..
---
---