Buying and storage
Fresh fenugreek is available in the farmer's markets from late November till early March. However, dried methi leaves (kasuri-methi) can be readily available in protective packs all around the year.
While buying, look for light green, tender leaves. Avoid greens with flowers as their leaves are tough and bitter to taste. Discard any yellow, bruised, wilted leaves and tough stems before storing.
Keep the herb as you do for other greens like arugula, spinach, purslane, kale, etc. Place it in the vegetable compartment of the refrigerator, set at high relative humidity.
Kasuri methi is dried fenugreek leaves. It is popular in India and Pakistan for its distinctive and spicy aroma.
It is chiefly used as a condiment in stew and curries in many Northern states of India, Iran, and Pakistan. Generally, it is toasted and crushed before adding to stews to bring out a special flavor and aroma.
Store it in the refrigerator, in an airtight jar, away from moisture. If kept so, kasuri-methi can stay well up to six months.
Preparation and serving methods
In India and Pakistan, fresh field-grown fenugreek is often sold in the local markets in bushels. Trim the tough stems. Discard yellow, bruised leaves.
Place the leaves in a large colander and clean thoroughly in cold running water as you do it in cases of other greens like spinach in order to remove sand, soil, dirt, etc. Drain water, gently mop-dry using a moisture absorbent cloth before use in cooking.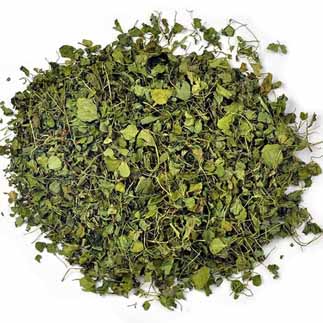 Kasuri methi.
Here are some serving tips:
The fenugreek leaves, called methi, are widely used either fresh or dried in Indian cooking and often combined with vegetables such as spinach, potato, and yam.

Aloo-methi (potato-methi leaves) is a favorite winter season stew in Pakistan and the Indian states of Punjab, Bihar, and Rajasthan.

Fresh greens are also used in soups, curries, and cooked in rice dishes like pulov, methi-rice, etc.

Fenugreek greens are an important ingredient in vegetable and dal (pulses) dishes eaten in the rural parts of India.

Dried fenugreek leaves (Kasuri Methi) are generally used as a condiment for flavoring various curries and sabzis.

Dried leaves are used as seasonings to enhance the flavor of Iranian ghormeh sabzi. Other main ingredients here are a mixture of sauteed herbs, consisting of parsley, leeks or green onions, and coriander, kale, and yellow split peas.
≻≻-You may also like to read:
≻≻-Mustard greens nutrition facts.
≻≻-Spinach nutrition facts.
≻≻-Back to Vegetables from Fenugreek leaves (Methi). Visit here for an impressive list of vegetables with complete illustrations of their nutrition facts and health benefits.
≻≻-Back to Home page.

Further reading:
Gopalan et al. 1989 table 1- Nutritional values of Indian Foods.
---
---