Selection and storage
In the US, large seed-Brewer cultivar type is preferred in the recipes. In the markets, whole, split, hulled lentils packed in bins or packets sold year-round. Elsewhere, small, orange masoor and brown lentils are used in the cooking.
In the stores, buy dry seeds packed in air-seal packets and bins. At home, store in a well-ventilated place, away from moisture and direct sunlight.
Preparation and serving ideas
Lentils do not need soaking. Wash carefully, as they often contain small grits and sand. Avoid cooking lentils for too long, as this turns them into a puree. While cooking, add little oil; this prevents the formation of scum, which can block the safety and pressure valves.
Lentils cook more easily if added to boiled water. Boil for 60 min for brown lentils and 15-20 minutes for orange ones. In the pressure cooker, cook 15 -20 min for brown lentils and about 5 min for orange lentils.
Here are some serving tips: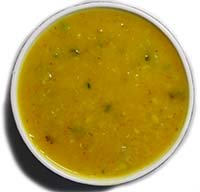 Lentil (masoor) dal.
In India and Nepal, whole (sabut) and split masoor dal widely used in the lentil-dal preparation which is served over rice.

Lentils used to prepare nutritious soups; they are also used in salads and main dishes.

Boiled, mashed lentils often used to make croquettes.

In India, lentils and rice are often prepared together (dal-kichri).

They can be sprouted or made into flour, to make flatbreads and protein supplements.

Dal adasi is a southern-Iranian spicy red lentil stew served over rice.
Safety profile
Allergy to lentils is rare. They cook and digest easily without much indigestion and flatulence problems. (Medical disclaimer)
You may also like to read:-
≻≻-Back to Legumes from Lentils. Visit here for an impressive list of vegetables with complete illustrations of their nutrition facts and health benefits.
≻≻-Back to Home page.
Further Resources:
---
---