Selection and storage
Immature, whole and shelled cowpea can be eaten as vegetables. Canned and whole dry beans can be readily available from grocery stores and markets.
Choose completely dried, intact seeds packed in bags. Avoid insect-damaged, slit, broken, mold-inflicted beans.
To store, place whole dry beans in plastic/steel containers away from moisture and heat. Whole beans can keep well for several months.
Green cowpea pods and shelled beans should be treated like green beans.
Preparation and serving methods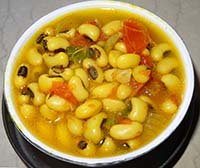 Black eyed pea stew.
The raw, green pods of black-eyed pea are edible before they are fully mature and are often served as a green vegetable. The leaves, shoots and tendrils are also used like spinach.
Although soaking is not mandatory for cowpeas, it quickens overall cooking time, removes anti-nutritional compounds, and enriches the flavor. Soaking in cold water for 3-4 hours is sufficient. Whole beans may take about one hour to cook. Pressure cooked for 10 min with soaking; 10-20 min without soaking. Avoid overcooking which turns them into mashed.
Black-eyed peas can also be used in soups and salads, cooked in patties, or slow-cooked. They are made into a puree or sprouted.
Here are some serving tips:
Cowpeas feature in popular New Years Day traditional -southern black-eyed pea recipe cooked with ham hocks, onion, pepper, and garnished with parsley.

Soaked and hulled black-eyed peas used in a variety mouth-watering recipes in West-Africa. Cowpea (akara) fritters with Tomato Sauce (Akaraje, in Brazil with shrimp and okra filling), and red cowpeas stew are classical dishes in Nigeria and Ghana.

In Turkey, the cowpeas cooked with mustard greens and urfa pepper and served with rice.

Baked black-eyed beans also feature in the Middle Eastern Bean Salad.

In India and Pakistan where the beans are called as lobia, cowpeas are one of staples employed in stews, and sabzi.
Safety profile
Unlike kidney beans like adzuki, raw cowpeas consumption do not cause phyto-hemagglutinin (lectin) toxin poisoning, a condition which may cause clumping of red blood cells in humans. However, boiling neutralizes other antinutrient compounds like trypsin, and enhances digestibility. (Medical disclaimer).
You may also like to read≻≻-
≻≻-Back to Legumes from Cowpeas. Visit here for an impressive list of vegetables with complete illustrations of their nutrition facts and health benefits.
≻≻-Back to Home page.
Further Reading:
Fieldbean- Agriculture, Forestry & Fisheries-pdf.
---
---