Buying
Colby cheese is readily available at many grocery stores all across the U.S. It is recognized as the official state cheese of Wisconsin, nonetheless, very popular in Mexican, Southwestern, and Tex-Mex cuisine.
Colby is a semi-hard American cheese prepared from cow's milk. It is similar to cheddar cheese in color but softer and more elastic than cheddar with tiny holes called "eyes" that developed during the cold-water curd-washing process.
Colby-Jack cheese is a marbled cheese, in which Colby is often mixed with Monterey Jack.
In the stores, Colby is also sold in the form of large cylinders referred to as "Longhorns" which are usually sliced into half-moons or even sticks.
USFDA recommends Colby has 42.0% (moisture) and 29.0% (milk fat).
Always look for "best by date" on the package.
Storing
Colby has high moisture content and should be properly refrigerated for extended shelf-life at 35-40° F in a refrigerator drawer. After opening Colby cheese, wrap it in wax or parchment paper and then cover with plastic wrap before refrigerating.
Properly stored, an opened chunk of Colby cheese will last for 3 to 4 weeks in the refrigerator.
If mold appears on a block of Colby cheese, cut away at least 1 inch around it and re-wrap and store the cheese adequately.
If mold appears in a package of shredded, or sliced cheese, discard it.
Food uses
The moisture and fat contents of Colby make it an excellent shredding cheese. It has good melting properties but should not be overheated, and hence, it is seldom used in cooking.
Colby is suitable as a table cheese, for grating and grilling, and in snacks and salads.
Here are some serving tips: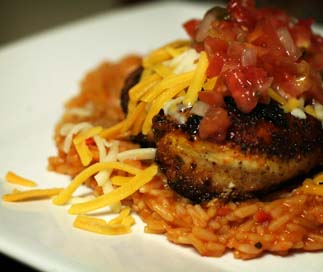 Shredded Colby-jack cheese on chicken and rice. Courtesy: Ginny
Colby cheese can be melted into soup, sauces, chili, and stews to provide body and texture as well as a mild cheese flavor.

Shredded Colby cheese is most popular with Mexican and Tex-Mex dishes such as tacos, fajitas, and stuffed enchiladas, where it is commonly used as shredded.
Safety profile
Colby cheese is one of the very high saturated fats, cholesterol and salty food items.
High sodium in the diet may cause water retention and elevated blood pressure.
Colby composes about 20.2 g of saturated fats and 95 mg of cholesterol (32% of DV)/3.5 Oz, making it one of the high saturated fat/cholesterol food items. Saturated fats raise your LDL (bad) cholesterol which increases the risk for heart disease and stroke.
Alternatively, low-fat or fat-free types of processed cheeses may be recommended for people on a diet.
(Medical Disclaimer: The information and reference guides on this website are intended solely for the general information of the reader. It is not to be used to diagnose health problems or for treatment purposes. It is not a substitute for medical care provided by a licensed and qualified health professional. Please consult your health care provider for any advice on medications.)
Also read ≻≻-
≻≻- Cheddar cheese nutrition facts.
≻≻- Cottage cheese nutrition facts.
≻≻- American Cream cheese nutrition facts.
≻≻- Back to Dairy products from Colby cheese nutrition facts.
≻≻- Back to Home page.
Further Resources:
USDA National Nutrient Database. (opens in new window).

Monterey Jack and Colby Canadian dairy Commission. (opens in new window).

United States Standards for Grades of Colby Cheese- pdf. (opens in new window).
---
---