Buying
Branzino is available year-round; whole fish, or as fillets in the US markets. They are best in spring or early summer before they spawn. Look for bright, firm fish with silvery skin, pink gills, and clear eyes.
Fresh, wild, line-caught sea bass fetches higher prices than farm produce. However, farmed bass is not only more affordable but available in plentiful supply all year round. Farmed bass are relatively large and have a slightly higher fat content.
At home, store fish and filets in the refrigerator for 2-3 days. For extended use, scale and gut whole before storing in the deep freezer.
Preparation and serving methods
If you buy whole fish, cleaning of branzino begins by cutting away the fins and then scaling its body. After that, make an incision along its belly and remove the innards. After gutting the fish, it must be washed thoroughly both on the inside and the outside and then mop dried. It then employed in cooking or wrapped with polythene and stored in the refrigerator.
Branzino is one of the finest fish, with very few bones and firm flesh, and delicate flavor that holds its shape in stuffing, grilling, or baking.
Here are some serving ideas: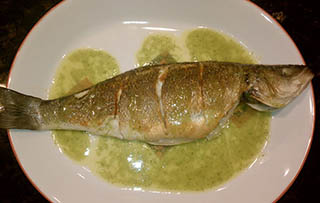 Branzino. Photo credit: kyopia
Branzino is a versatile fish. Depending on the serve size; smaller fish can be used in stuffing with lemon slices and herbs. Large fish can be filleted are great for grilling or pan-frying.

Prepare gratin with Sea bass, bacon, potatoes, capers in cream sauce
Safety profile
Wild-caught Branzno has ratings 3 and 4 (yellow and amber). As there are better-rated alternatives under sustainability consideration, branzino fishing should be limited as much as possible.

Methyl mercury levels in European sea bass is 0.167 Parts Per Million (PPM). Accordingly, the U.S FDA final guidelines on how much fish expectant as well as breastfeeding mothers can eat, along with lists of specific options that are safe or should be avoided, places sea bass under the best choice category. By this yardstick, they can consume 2-3 servings a week. (Medical disclaimer).
Also read ≻≻-
≻≻- Atlantic Cod nutrition facts and health benefits.
≻≻- Salmon nutrition facts and health benefits.
≻≻- Halibut nutrition facts and health benefits.
≻≻- Trout fish nutrition facts and health benefits.
≻≻- Back to Seafood from Branzino fish nutrition facts and health benefits.
≻≻-Back to Home page.
Further reading (Links opens in new window):
---
---