Selection and storage
If you are not from the countryside, then you most likely can find these beautiful tiny olive-green buds filled in a small, tall glass jar submerged in their pickling medium in the spice stores and groceries. Pickled capers can be readily available around the year in the markets.
Traditionally, buds washed in the cold water soon after their harvest and allowed to dry in the sun for few hours before being put into tall jars containing vinegar, brine, or olive oil. Alternatively, they can also be preserved in sea salt alone.
In general, small-sized buds (less than 1 cm diameter) are considered more flavorful, and therefore, preferred over the larger ones (more than 1 cm diameter). Capers should be preserved by immersing in the pickling medium, otherwise, they soon turn flavorless. Once you open the jar, make sure it is refrigerated for future use. Use stainless steel spoon or fork to fish them out of the container.
Culinary uses
Capers, their tender shoots, as well as immature berries can be used in cooking. Raw buds have a neutral flavor and need to be processed in a pickling medium to develop a unique piquant, tangy flavor.
They featured in a variety of cuisines worldwide, especially in Mediterranean cooking.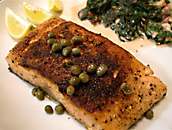 Tuna with caper sauce and lemon.
Photo courtesy: naotakem
Here are some serving tips:
The pickled buds used as a flavoring in antipasto salads and as a topping in pizzas.

Capers render distinctive taste to vegetable, meat, veal and fish (especially along with anchovy sauce) recipes.

Remoulade a favorite aioli or mayonnaise-based sauce in the northern Europe, uses capers brine as one of the main ingredients.
Safety profile
Capers are safe to use in cooking. Their use may be limited in pregnancy. Patients undergoing any surgical intervention may have to avoid them as they act as a blood thinner and may result in excessive bleeding. (Medical Disclaimer).
≻≻-Back to Spices from Capers. Visit here for an impressive list of healthy spices with complete illustrations of their nutrition facts and health benefits.
≻≻-Back to Home page.
Further reading:
Journal of Agricultural and Food chemistry- Bioactive components of Capparis spinosa. L
---
---