Buying
Always buy a live crab so that you can be absolutely sure of freshness. It is normally cooked by dropping into boiling water. Alternately put the live crab in cold water and slowly bring the water to boiling point.
Storing
Keep it in wrapped in a damp cloth inside a refrigerator.
Preparation- How to remove meat from crab?
Lay the crab on its back on a large chopping board. Hold the crab firmly with one hand and break off the tail flap. Remove tail by unbending and twisting it, then discard. Twist claws and legs.
Break the claws and legs with a nutcracker (lobster cracker), then extract the meat.
Stand the crab on its head and insert a heavy knife between the body and shell. Twist the knife firmly to separate them so that you can lift the honeycomb body out.
Detach the spongy stomach sac, and cut it into quarters.
Use a spoon to scoop out all the creamy brown meat from the back of shell.
Crab meat yield is about 35%.
Once cooked, Its claws and shell turn maroon, irrespective of the original color.
Here are some serving ideas: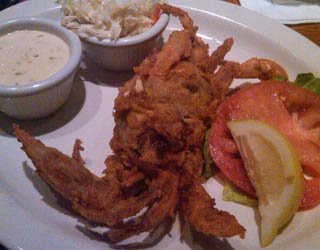 Blue crab- Callinectes sapidus. Photo courtesy Michelle
Recipes include devilled crab, where the meat is removed from the shell and cooked with mustard, horseradish, and spices.

Crab mornay, in which the meat is combined with a gruyere cheese sauce enriched with sherry and mushrooms.

Crabmeat is excellent in fishcakes such as Thai fishcakes.

It also makes excellent soups.

Soft-shell crabs may be lightly coated in flour and deep fried. Moheche fritte (molted crab) is a Venetian specialty in which crab are soaked in beaten eggs before being fried.

In China, soft-shelled crabs are served with a spicy garnish of chilli or fresh root ginger.
Safety profile
Allergy to crustaceans may appear in 1% of the population and is more common in teenage and adult life than very early childhood.
Many allergic reactions to seafood are mild and cause hives (urticaria), tingling of the throat and mouth, swelling (angioedema), and/or gut reactions (vomiting, diarrhea).
Methyl mercury levels in European sea bass are 0.66 Parts Per Million (PPM). Accordingly, the U.S FDA final guidelines on how much fish expectant as well as breastfeeding mothers can eat, along with lists of specific options that are safe or should be avoided, places blue crab in the best choice category. By this yardstick, they can consume eat 2-3 servings per week. (Medical disclaimer).
Also read ≻≻-
≺≺ Shrimp nutrition facts and health advantages.
≺≺ Lobster nutrition facts and health benefits.
≺≺ Trout nutrition facts and health benefits.
≺≺ Anchovies nutrition facts and health benefits.
≺≺ Back to Seafood from Blue crab nutrition facts and health advantages.
Further reading (Links opens in new window):
---
---