Buying
Fresh channel cat seasonality is August to December. It is usually sold whole dressed (gilled, gutted, scaled), both fresh and frozen, and as steaks, skinless and boneless fillets, and fillet strips, and as whole dressed fish.
In the supermarkets, one may come across breaded fillets and nuggets, marinated fillets, and smoked (fillets and dressed fish).
Like all fish, channel cat also tends to spoil early. To store at home, wrap the fish in heavy-duty freezer bags. Store in the freezer at 0 F or lower. Thaw in the refrigerator at between 25 and 30 degrees F for 24-48 hours before cooking.
Preparation
The channel catfish will have a slimy surface that needs to be cleaned before cooking. If you buy whole, gutted fish with intact skin, gently scrub the skin with a lemon slice, and scrape with a blunt knife to remove pigment slime, and wash again in clean water.
Channel cat is a mild-sweet tasting, firm-textured, white freshwater fish that easily takes on flavors of ingredients in cooking.
It can be employed in any number of cooking methods; deep-fry, pan-fry, bake, broil, grill, smoke, sauté, and steam.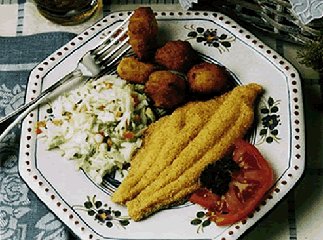 Deep-fried catfish-Classic-Southern dish. Photo credit: The Catfish Institute.
Channel catfish is one of the most popular freshwater fish eaten in the Southern states of the US. Cornmeal-coated, deep-fried catfish is served with hushpuppies, coleslaw tarte sauce, and lemon slices.

It is also prepared delicious soups, chowder, stews, and curries.

Popular value-added catfish products include fish cakes, pies, nuggets, fish balls, and patties.
Safety profile
The mean methyl-mercury concentration in common carp is 0.024 ppm. Accordingly, the U.S. FDA's final guidelines on how much fish expectant as well as breastfeeding mothers can eat, along with lists of specific options that are safe or should be avoided, place it in "the best choice" category. By this yardstick, they can consume 2-3 servings (8-12 ounces) of this fish per week.
Some processing units have been known to soak catfish fillets in sodium tripolyphosphate solution to add moisture and weight, resulting in an inferior product. Buyers should avoid fillets that are brown or gray in color. (Medical disclaimer).
Also read ≻≻-
≻≻- Atlantic cod nutrition facts and health benefits.
≻≻- Trout fish nutrition facts and health benefits.
≻≻- Halibut nutrition facts and health benefits.
≻≻- Back to Seafood from Channel catfish nutrition facts and health benefits.
Further reading (Links opens in new window):
---
---