Selection and storage
Harvesting is done once the whole plant and seed pods turn yellow. Stacks dried under the sun. Normally, threshing and winnowing methods employed for seed separation.
The black gram beans can be readily available in the stores all year round. Buy well-formed bold-black dry seeds in bins, and packets. Ready-to-use, split, hulled, and cleaned beans are also sold in the shops.
At home, store dry beans in an air-sealed plastic/metallic bin and keep them in a cool, dry place away from high temperatures and humidity.
Preparation and serving ideas
Urad beans soaked for 6-10 hours before cooking. Soaking and pressure cooking consumes less time.
Immature urad pods are often used as vegetables. With a soft textured and strong taste, dried, mature urad seeds are prepared in the same way as other legumes.
Here are some serving tips: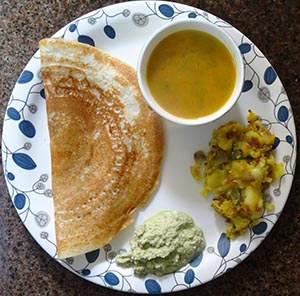 South-Indian style-Dosa sambar.
In India, they are hulled, split, and used with rice to make a sort of crepe (dosa), or the spiced lentil puree (dal makhani).

In South India, a mixed batter of rice and urad used in the preparation of idli and urad vada (medu vada), served with coconut chutney and samar (vegetable stew).

Ground into flour, urad is used to make confectionery, flatbreads, or bread.

In Sri Lanka and Kerala, a similar kind of batter used in Uttappam, served with vegetable, fish or chicken curry.

Hulled urand split lentils used to prepare papadum in many Indian provinces.

Whole beans can be sprouted, and used in salads.
Safety profile
In small quantities, black mungo is well-tolerated without much flatulence problems, unlike chickpea. Excessive consumption often causes gastritis and pain in the stomach. Allergy to these beans is a rare condition. (Medical disclaimer)
You may also like to read ≻≻
≻≻- Back to Legumes from Black gram. Visit here for an impressive list of vegetables with complete illustrations of their nutrition facts and health benefits.
≻≻- Back to Home page.
Further Resources:
Stanford School of Medicine Cancer information Page- Nutrition to Reduce Cancer Risk.
---
---