Custom Search
Borage nutrition facts
Borage, also known as the bee plant, is one of the chosen culinary herbs employed by grandmothers to prepare famous green sauce, to garnish salads or to pamper children with candied flowers! This ancient garden herb exudes characteristic "cucumber-like" aroma to the recipes. For the same reasons, it is one of the most sought-after herbs in the Mediterranean households even today.
Botanically, it belongs to the family of Boraginaceae, of the genus, Borago and has the scientific name: Borago officinalis. The herb is also known as starflower since it bears five-petaled, deep-blue, beautiful star-shaped flowers in clusters. Some of the other common names include bee bread, Burrage, common-bugloss, etc.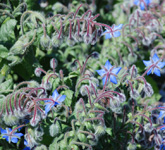 Borage (Borago officinalis). Note for large, oval dark green leaves with star shaped deep-blue flowers.
Photo courtesy: kthread
Borage is an annual hollow stemmed plant with bristly hairs on its surface. It reaches about 75-90 cm in height and grows in plentiful all over the wild highlands of Eastern Europe and Asia Minor regions.
The plant features broad oval-shaped, dark green fuzzy leaves. In general, its leaves are gathered early soon after the appearance of flower buds but before opening of the flowers. Young, tender leaves can also be used in salads while older leaves may be employed as greens. However, as the plant gets older, their leaves become tough, larger, more fuzzy, and bitter in taste.
Health benefits of borage
Selection and storage
Borage should be fresh for use in salads and cooking. While buying from the markets look for fresh herb leaves with stout succulent stem and delicate cucumber flavor that can be appreciated from a short distance. Like in other greens such as spinach, borage can stay fresh only for a few hours and loses its flavor rather sooner. Unlike in other herbs like oregano, where dry herbs (leaves) and powder can be added to cuisine, dried borage leaves are out of flavor and therefore, avoided.
Avoid sunken, yellow or dried leaves as they are out of flavor and taste.
Once at home, store borage as you do it for spinach or like any other greens.
Preparation and serving methods:
Wash fresh herb in cold running water or rinse for a few minutes to remove any dirt or pesticide residues. The herb can be used in large quantities like other green vegetables. Remove tough leaves and stem using a paring knife.
Here are some cooking tips: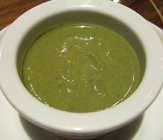 Mediterranean green sauce-salsa verde.
Photo courtesy: toyohara
Medicinal uses of borage herb
Safety profile
The herb contains certain compounds in it which when taken in large quantities may affect kidney functions (possible diuretic effect). (Medical disclaimer).
<<-Back to Healthy herbs from Borage. Please visit here for an impressive list of healthy herbs with complete illustrations of their nutrition facts, medicinal properties, and health benefits.
<<-Back to Home page.
Visit here for very informative pages on:-
Further reading:
1. Starflower- BBC home.
2. USDA National Nutrient Database.