Selection and storage
Vanilla bean pods can be available in herb and spice stores year around. One may also find the vanilla essence and vanilla sugar in these stores. Vanilla bean pods can be usually available either singly or in small bundles often packed inside long tube or jar.
Buy vanilla products from authentic sources since oftentimes adulteration with artificial flavorings is quite common. A well-processed good-quality pod will remain potent for as long as 3-4 years.
Alternatively, store whole vanilla bean in a jar of caster sugar and allow 3-4 weeks for the flavor to permeate into the sugar completely. This fragrant, rich vanilla sugar can be employed in cakes, puddings, pies, and ice-creams.
Culinary uses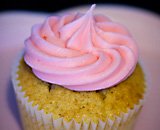 Vanilla ice-cream on top of muffin! Photo: shimelle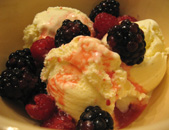 Vanilla beans ice cream with blackberries and raspberries. Photo: kimberlykv
Real vanilla enhances the pleasantly aromatic flavor to the recipes it added to. For the same reason, it fetches high price, next only to saffron. At home, natural vanilla extract can be prepared by finely chopping the beans and infusing them by dripping alcohol on the pieces.
Alternatively, the beans are bruised and infused in milk or cream for making ice-cream and sweet puddings.
Here are some serving tips:
One of the finest flavoring bases employed exclusively in the sweet dishes, vanilla is added to cakes, biscuits, desserts, and puddings.

It is also used in other confectionary items to make chocolates, ice-creams, custards, chocolate drinks, etc.
Safety profile
Pure vanilla products are safe to use even in pregnancy and have no reported incidences of adverse reactions or toxicity.
≺≺ Back to Spices from Vanilla beans. Visit here for an impressive list of healthy spices with complete illustrations of their nutrition facts and health benefits.
≺≺ Back to Home page.
Further reading:
---
---