Stevia plant uses in traditional medicine
Stevia extract has been in use by native South Americans (where it is known as caa-he-éé or kaa jheéé) to reduce weight; to treat wound infections, inflammatory conditions, swelling in the legs and as a tonic to treat depression.
Selection and storage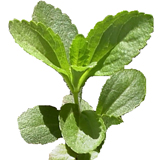 Fresh stevia leaf.
At its natural habitat, stevia plant leaves are harvested by hand picking as and when required. However, most of the stevia that is made available in the markets, grown in the greenhouse, or at least under supervised farming. If you grow your own stevia plant in the backyard, pick up leaves with a short petiole for use. In general, fresh leaves can be sundried, powdered, and stored in an airtight container for future use.
To store, place it in a cool, dark, humid-free place like the one you do for other dried herbs such as oregano, where it will stay fresh for several months.
Preparation and serving methods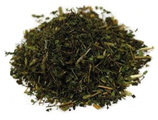 Dried stevia leaves.

Stevia sugar (Rebaudioside-A).
Farm fresh stevia plant leaves can be used directly in drinks as a sweetener. However, most often its dried powder/ refined stevioside/ stevia syrup is being used in the cooking.
Remember to use dried stevia sugar in small proportions, as it is nearly 30 times sweeter than cane sugar. Roughly, one teaspoonful of dried leaves powder is equivalent to one cup of sugar; therefore, use it in small quantities adjusting the amount to achieve your desired levels of sweetness.
You can also make stevia syrup by adding a cup of hot water to 1/4 cup of fresh, finely-crushed leaves. This mixture is allowed to settle down for 24 hours, filtered, and then refrigerated. You may also want to buy stevia sugar rebaudioside-A which is a white, crystalline powder, approximately 300 times sweeter than cane sugar.
Here are some serving tips:
In Japan and many East Asian regions, stevia plant parts are being used to sweeten tea, sweets, sauce, confectionary, and soft drinks.

Stevia extracts are further refined for use as table sugar. It can then be added to jam, yogurt, ice creams, smoothies, desserts, chewing gum, and sorbets and also to sweeten bitter medicines.

In Brazil, it is used as a remedy to treat diabetes, high blood pressure, stress conditions, etc.
Safety profile
Stevia plant and its processed products are not being used in the European Union countries for their suspected mutagenic effects. In the USA, stevia leaf and its extract are limited to use legally as a dietary supplement. However, the use of rebaudioside-A, a processed stevia glycoside, is allowed in many of these countries.
In 2006, the World Health Organization (WHO) observed the following statement regarding the use of stevia plant: "stevioside and rebaudioside A are not genotoxic in vitro or in vivo and that the genotoxicity of steviol and some of its oxidative derivatives in vitro is not expressed in vivo."[2]
In conclusion, stevia and its products are being used in some advanced countries like Japan and for centuries by Guarani tribes of South America and found to be harmless for human consumption even in pregnancy. (Medical disclaimer).
Truth facts about stevia plant
Stevia is a herb plant in the Asteraceae family. It is being used in some advanced countries as a safe low-calorie alternative, especially in restricted carbohydrate diets.

It has been safely used by Guarani tribes of Paraguay for centuries without any adverse effects; the fact which is endorsed recently by World Health Organization.

Further, stevia has many natural antioxidants that help lower blood pressure, cholesterol, and control diabetes.

Stevia can be safely used during pregnancy and infants. (Medical disclaimer).
≺≺ Back to Herbs from Stevia plant. Visit here for an impressive list of all variety of herbs with complete illustrations of their nutrition facts and health benefits.
≺≺ Back to Home page.
Further Resources:
---
---