Selection and storage
Whole as well as ground star anise powder can be readily available in the Asian markets and specialty shops year-round. Choose whole dried pods instead of its ground form for purity and authenticity.
Classical star anise pods feature eight-pointed, rust-brown carpels, which emit a pleasant aroma when rubbed between index and thumb fingers. Oftentimes broken/split whole pods and displaced seeds found in the packs/containers are just fine.
Whole pods last for several months kept in an airtight container away from strong light and humidity. Buy them in small quantities so that they would last for 3-4 months to avoid loss of their flavor because of evaporation of essential oils. Ground, powdered spice should be kept inside airtight containers and used as early as possible since it loses its flavor rather quickly.
Medicinal uses of Star anise
Star anise and its oil found application in many traditional medicines, particularly in traditional Chinese medicine (TCM) for their unique health-promoting and disease-preventing roles.
Star anise extraction is an excellent remedy for cough, bronchitis, and viral flu.

Its infusion can be helpful in digestive disorders such as colicky stomach pain, nausea, flatulence, and indigestion.

In China and Taiwan, its individual carpels (points) are chewed as a mouth freshener.

The essential oil "anethole" (star anise comprises 70 - 90%) has been found to have an estrogenic effect. The decoction obtained from the seeds is often prescribed in nursing mothers to promote lactation.
Culinary uses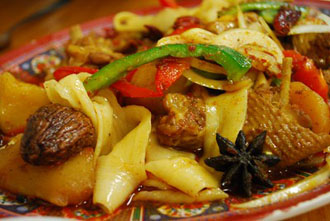 Star anise spiced chicken recipe. Courtesy: Alpha
Star anise is a unique spice featured in Chinese cooking. It tastes like licorice or anise seed. The whole pods, ground powder, or oil are employed in savory cooking all over mainland China, Vietnam, Japan, India, and other South Asian regions.
Star anise is one of the chief ingredient in popular Chinese five spice mixture along with fennel seeds, cinnamon, sichuan peppercorns (Hua jiao) and cloves.

As a part of five spice powder or more often the whole star anise (ba jiao) alone is used in traditional Chinese tea eggs recipes.

Whole star anise added to flavor soups such as Vietnamese beef noodle soup (pho bo) and popular Chinese dishes such as hui beef stew.

Star anise well-known as "chakra phool" in India and Pakistan where it is employed as a featured item in garam masalas to flavor different kinds of vegetables and meat stews and curries and to marinate meat.

This aromatic spice is used as a flavoring base for soups, sauces, bread, muffins, cakes, biscuits and in various other confectionaries.

In a way similar to aniseed, star anise spice also used to flavor drinks include prenod, French pastis, Spanish ojen, etc.

In small quantities, it is also used as a flavoring agent in the preparation of spice tea all over China.
Safety profile
Star anise is safe when used in small quantities. Its volatile oils include certain neurotropic sesquiterpenoids, veranisatins A, B, and C. Veranisatins showed convulsion and lethal toxicity in experimental animals.
Star anise oil and tea should not be used in young children below 5 years of age and in pregnant women.
Japanese star anise (Illicium anisatum) is considered as toxic by many food regulatory authorities around the world. (Medical disclaimer).
≺≺ Back to Spices from Star anise. Visit here for an impressive list of healthy spices with complete illustrations of their nutrition facts and health benefits.
≺≺ Back to Home page.
Further reading:
World Afro Forestry center (Illicium verum).. pdf -(opens in new window)

Gernot-Katzer's spice pages. (Opens in new window)/p>
---
---