Selection and storage
Fresh rhubarb stalks can be readily available in the markets from April until August. If you are growing them in the backyard, harvest its leaf petiole (stalk) by grabbing at its base, simultaneously pulling and twisting as you do it while snapping celery stalks. Immediately separate the petiole from its leaf part (leaf blade). Green tops of rhubarb contain oxalic acid as well as poisonous glycosides. Additionally, the top greens drain away nutrients from its stalk.
While buying from the markets look for fresh, firm, crispy bright-red color stalks. They usually put for sale in bunches along with other typical greens. Avoid those stalks that feature dull, slump or bruise or blemishes on the surface.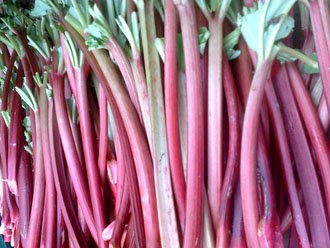 Fresh rhubarb stalks in a market. Photo: roland
Once at home, harvested or purchased stalks should be placed in a plastic bag and stored in the refrigerator set at 32°F and 95 percent relative humidity. This way, stalks can stay fresh for about 2-3 weeks.
In the shops, one may also find ready-to-use, processed rhubarb preparations like canned, vacuum-packed, freeze-dried, etc.
Preparation and serving methods
Fresh rhubarb stalks feature a rich sweet-tart flavor. In general, rhubarb stalks of young crinkled leaf tops have no or few strings and have a sweet taste.
To prepare: Trim the ends using a paring knife. Wash them in cold running water, gently scrubbing the surface using your fingers. Cut stalks into 1/2-inch to 1-inch pieces using a paring knife. Usually, their extreme tartness is somewhat tamed by the addition of sugar, honey, and glucose syrups.
Here are some serving tips:
Its crispy, juicy stalks can be used in the preparations of sauces, preserves, jellies, jams, syrups, sorbet, juice…etc.

Rhubarb is best remembered for its delicious pies.

It can also be used in the preparations of tarts, puddings, crumbs, pancakes, muffins, strudel,..etc.
Safety profile
Top greens of rhubarb should be avoided in the cooking. Its leaf (blade) contains unusually high amounts of oxalic acid, a naturally occurring substance found in some vegetables.
100 g of stalks contain about 0.59 - 0.72 mg of oxalates. The lowest published lethal dose (LDLo) of oxalate in humans is 600 mg/kg. Oxalate can cause severe toxic symptoms even at much lower concentrations than this on the human body. Symptoms may include burning of the eyes, mouth, and throat; skin edema, and difficulty breathing. In severe cases, it can result in kidney failure, convulsions, coma, and death. (Medical Disclaimer).
≺≺ Back to Vegetables from Rhubarb nutrition. Visit here for an impressive list of vegetables with complete illustrations of their nutrition facts and health benefits.
≺≺ Back to Home page.
Further Reading (Links open in new window)
University of Illinois extension.- Vegetable directory.

University of Kentucky-Specialty Crop Profile: Rhubarb.
---
---