Selection and storage
Cashew nuts are available in the market year-round. In the stores, only urushiol treated and shelled cashew kernels.
In the stores, one can find raw, salted, sweetened, or candied cashews. Buy shelled nuts that feature a bright cream-white, compact, uniform, and feel heavy in hand. They should be free from cracks, mold, and spots and free of rancid smell.
At home, store cashew kernels inside an airtight container, and keep them in the refrigerator to avoid them turn rancid. Fresh nuts should keep well for 5-6 months if stored so.
Culinary uses
Cashews have crunchy, buttery texture with a pleasant sweet, fruity aroma.
Here are some serving tips: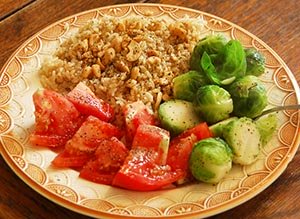 Cashew fried rice with brussel sprouts and tomato
(Photo: by waldopics)
Cashews can be enjoyed as a snack as they are. They can also be eaten salted or sweetened.

Cashews are nutty yet pleasantly sweet in taste. They can be relished as a garnish in various kinds of sweets and desserts.

Cashews, along with almonds and other dry fruits, are being used in savory rice dishes Hyderbad-biriyani, rice-pulao...etc, and in curry (kaaju-shahi-paneer) preparations in Indian, Persian, Pakistani, and Middle-Eastern regions.

Split or crushed cashew along with almonds, pistachio is often sprinkled over desserts, particularly sundaes, and other confectionaries to enhance flavor.

The nuts widely employed in the confectionery, as an addition to biscuits, sweets, and cakes.

Cashew apples are among popular fruits; eaten on their own in many regions around the world. They are also being used to prepare healthy drinks.
Safety profile
Cashew nut allergy is a common hypersensitivity condition in some individuals, especially in children. The reaction symptoms may range from simple skin itching (hives) to severe forms of anaphylactic manifestations, including breathing difficulty, pain abdomen, vomiting, and diarrhea.
The allergic manifestations are due to chemical compound anacardic acid (urushiol) that is present in cashew apples, shells, and nuts. Cross-reactions may also occur with some other nuts and fruits of Anacardiaceae family such as mango, pistachio, etc.
Individuals with known allergic reactions to cashew nut and fruit may observe caution while eating them. (Medical disclaimer).
≻≻-Back to Nuts and Seeds from Cashew nut. Visit here for an impressive list of nuts with complete illustrations of their nutrition facts and health benefits.
≻≻-Back to Home page.
Further Resources:
Stanford School of Medicine Cancer information Page-Nutrition to Reduce Cancer Risk.

EDIS-University of Florida-PDF.
---
---