Buying
Provolone is readily available in local grocery stores, specialty cheese shops, or online retailers. It can come in different shapes, including traditional long and cylindrical shapes, as well as smaller rounds or blocks.
Decide what type of provolone cheese you want. Provolone cheese comes in different forms, such as sliced, shredded, or in blocks. It also comes in different varieties, including mild and sharp provolone.
Check the expiration date of the cheese. Make sure that the cheese is fresh and not expired.
Avoid sour or unpleasant odor provolone, as it may indicate that the cheese is past its prime. Also, check for any signs of mold, discoloration, or sliminess. These are all indicators that the cheese has gone bad.
Storing
At home, store it properly to maintain the quality and freshness of the cheese. Store it in an airtight container or wrap it tightly in plastic wrap or aluminum foil. Place it in the fridge at a temperature between 32°F and 40°F (0°C and 4°C), and make sure it's away from other strong-smelling foods that can affect the taste of the cheese.
Keep it in its original packaging until you're ready to use it. Once opened, wrap the cheese tightly in plastic wrap or aluminum foil to prevent it from drying out.
Food uses
Provolone cheese is a delicious and versatile cheese that can be used in many dishes to add flavor and texture. In general, Provolone cheese is considered one of the most popular Italian cheeses in the United States, along with mozzarella, Parmesan and ricotta.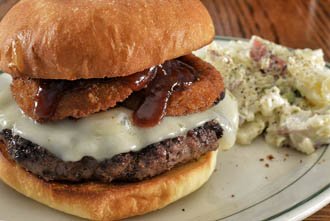 Cheeseburger with provolone. Courtesy: jeffreyw
Provolone cheese is particularly popular in the northeastern region of the United States, in Philadelphia cheesesteak.

It is a popular choice for sandwiches, especially Italian-style sandwiches like panini. Its sharp flavor pairs well with cured meats like salami and prosciutto.

Provolone is often used as a topping on pizzas, either alone or in combination with other cheeses like mozzarella and Parmesan.

Provolone cheese can be grated and added to pasta dishes, such as baked ziti or lasagna, to give them a creamy and slightly tangy flavor.

It is an excellent cheese to use on burgers. Its sharp flavor adds depth to the burger's taste, and it melts well, making it ideal for cheeseburgers.

It is a staple ingredient in Italian antipasto platters. Its sharp flavor pairs well with other cured meats, olives, and marinated vegetables.
Safety profile
Provolone cheese is generally considered safe to consume for most people. However, as with any dairy product, it can cause problems for individuals who are lactose intolerant.
In a way similar to mozzarella, provolone also considered low tyramine cheese.
Some individuals may be allergic to provolone cheese, or to other components of the cheese-making process such as rennet or mold. Symptoms of a provolone cheese allergy may include hives, itching, swelling of the face or throat, difficulty breathing, or stomach upset. If you experience any of these symptoms after consuming provolone cheese, you should seek medical attention immediately. (Medical disclaimer).
Also read ≻≻-
≻≻- Cheddar cheese nutrition facts.
≻≻- Parmesan cheese nutrition facts.
≻≻- Back to Dairy products from Provolone cheese nutrition facts.
≻≻- Back to Home page.
Further Resources:
USDA National Nutrient Database. (opens in new window).

CODEX STANDARD FOR PROVOLONE (opens in new window).
---
---