Selection and storage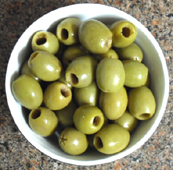 Cured green olives.
Raw Olives cannot be eaten as they are because of the bitter principle of oleuropein. Some enthusiast olive fans may want to cure them on their own. If you are placed at close quarters to any olive farms that sell raw fruits, try to buy fresh olives for home-curing. Otherwise, almost all the types of olives available in the markets are already treated and cured.
In the groceries, customers are equally spoiled of choices; pitted, oil-cured, stuffed, sliced, etc. Home-cured olives should be placed inside a plastic or glass container immersed in a light brine or olive oil. For extended storage, place them under strong brine.
Once at home, packed/canned olives may be placed in a dark cool place until the "use by" date from the manufacturer. However, once opened, the fruits should be kept in the refrigerator, preferably transferred onto a glass or plastic bowl and immersed in the brine. Use them within 1-2 months of purchase.
Preparation and serving methods
Cured olives have been an integral part of the Mediterranean diet since ancient times, especially in Greece, Spain, and Italian households.
Cured and ready-to-eat olives are readily available in the stores. All that you need to do once you open the jar is to give them a wash in clean water to bring down their sodium content. Some people prefer to cure olives at home by employing traditional methods and avoid commercial "lye-cured" (sodium hydroxide) ones for many reasons.
Cured black and green olives are equally popular as finger food in Europe. They are also one of the sought-after ingredients in recipes all over the world. Some of the well-known black (ripe) types include Manzanillo from Spain and Kalamata from Greece, and among the green types are Hojiblanca (Spain) and Lucques (France).
Here are some serving tips
Traditionally, olives are eaten as a side dish or snack.

They chiefly served as appetizers or starters.

Pitted and sliced olives add great flavor to salads, pasta, and pizza toppings.

They also give a special salty flavor to dips, sauces, tapenades, etc.
Safety profile
Olives are safe food to eat; however, some people may manifest some allergic symptoms to lye-brine (caustic soda). Additionally, lye or salt-cured olives contain a higher concentration of sodium than the recommended intake. Shift the fruits into a bowl and wash them in clean water a few times until all the lye/salt content is removed. (Medical disclaimer).
olive oil nutrition facts and health beneifts.

≻≻-Back to Fruits from Olives nutrition. Visit here for an impressive list of all varieties of fruits with complete illustrations of their nutrition facts and health benefits.

≻≻-Back to Home page.




Further reading and Resources:
USDA National Nutrient Database. (opens new window).

International Olive Council-International Olive council.
---
---