Selection and storage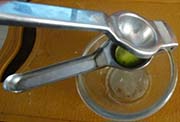 Lime squeezer.
Key limes season in the USA is between May and August. Fresh sweet and Persian limes are available year-round in the fruit markets. While buying, look for well developed, fragrant-rich, heavier limes featuring fresh citrusy aroma that can be appreciated when you gently roll your finger over them.
Avoid those with surface blotched, overtly soft fruits as they tend to perish early. Also avoid dry, shriveled; and hard, immature fruits as would not be as much juicier.
Owing to their thin peel cover, limes tend to dry early when compare to other citrus fruits like oranges. Once at home, use well ripe fruits in the recipes and green limes in the refrigerator for 5-7 days. Cut lime sections spoil early if kept in the air.
Preparation and serving methods
Wash and mop dry limes before use. Scrub thoroughly if intend to using zest. If juicing, cut the fruit in half using a paring knife. Lime squeezer are available in different made, and sizes for effective juicing without adding seeds and pith (pulp) in the recipes.
Here are some serving tips: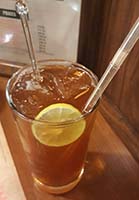 Iced lime tea.
Lime slices/wedges are used to garnish salads and dishes.

Limeade is a very popular beverage.

They can also used in confectionary such as pies, breads, tarts, cakes, pastry dough, and marinades.

Key lime-pie is a popular American dessert, particularly in Southern states (Florida).

The outermost part of the rind grated using a zester to produce lime-zest, which found application in marinades, desserts, etc, for its flavorful essential oil rich peel.

Iced lime tea is a refreshing drink.

Limes, in a way similar to lemons can be dried and preserved (black limes), which then employed as a condiment in the Omani and Persian cuisine.

Lemon/lime pickles are favorite side dishes in the Middle-East, India, Pakistan, Morocco, etc.
Safety profile
Lime juice is very acidic and has 1.8-2.0 pH. In some sensitive people, its sour, acidic juice may sometimes elicit burning sensation if come in contact with mouth, tongue, and lip ulcers. Also, if taken in large amounts, may exacerbate acid-peptic disease and stomach ulcer conditions. (Medical disclaimer).
<<-You may also like to read- Lemon nutrition facts.
<<-Back to Fruits from Limes nutrition. Visit here for an impressive list of all variety of fruits with complete illustrations of their nutrition facts and health benefits.
<<-Back to Home page.
Further reading and Resources:
Stanford School of Medicine Cancer information Page- Nutrition to Reduce Cancer Risk.

JN-The Journal of nutrition- The Hypoglycemic Effects of Hesperidin and Naringin Are Partly Mediated by Hepatic Glucose-Regulating Enzymes in C57BL/KsJ-db/db Mice.
---
---