Medicinal uses of Jujube
Dry jujube fruit and its powder are used in traditional Chinese medicine (TCM) to cure nervousness, stave off infections, and improve digestive power.
Selection and storage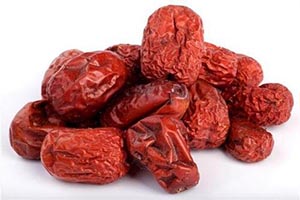 Dried jujube
Fresh jujube berries begin arriving in the markets from July and lasts until November in mainland China. Varieties of fresh or dried date-like berries can be readily available in the markets.
After harvesting, jujube fruits should be graded according to the degree of ripening and fruit size. Drying can be done as in raisins, dehydrating under the sun for about three weeks, or in a drier machine at commercial processing units. Dried fruit can be consumed as such or further processed into juice, wine, powder, and so on.
Look for fresh, light-green, full, firm berries if you wish to buy apple-crunchy textured berries. Dry berries can be available in packs.
Raw, fresh berries last for 3-4 days at room temperatures, and for a couple of weeks in the refrigerator. Dried berries, however, can store well for several months.
Preparation and serving method
Wash them in clean water, and dry mop using a paper towel. Fresh as well as dried berries can be eaten out of hand without any seasonings and add on.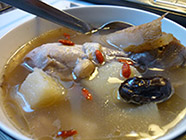 Jujube fruit, wolfberry, chicken soup. (Photo-Singzy)
Here are some serving tips:
Fresh berries can be eaten out of hand as in apples.

Dry fruits can be used in a much similar way like dried dates, in cakes, tart, bread, muffins, etc.

Jujube fruit tea is a welcome drink in Korean culture.

In Korean peninsula, dried red jujube and ginseng tea (insam-daechu cha) is a popular drink.

Jujube rice cake (Daechu tteok) is another favorite recipe of Koreans.

Dried jujube employed to prepare jams, paste, puree in China. Jujube paste, sweet pastry, mooncake, prepared during the mid-autumn festival in China.
Safety profile
Jujube fruits fresh or dry can be consumed safely in children and pregnant mothers. (Medical disclaimer).
≻≻-Back to Fruits from Jujube. Visit here for an impressive list of all varieties of fruits with complete illustrations of their nutrition facts and health benefits.
≻≻-Back to Home page.
Further reading and Resources:
Dried jujube fruit-United States National Nutrient Database for Standard Reference.
---
---