Calcium Supplements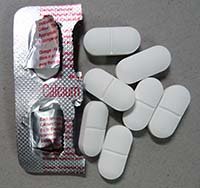 Calcium tablets
Calcium salts such as calcium carbonate, chloride, citrate, acetate, gluconate, etc., available in formulations from infants to adults to treat calcium deficiency after physician consultation. Calcium chloride has better bio-availability among these supplements.
Apart from prophylaxis, the supplements often advocated to treat osteopenia/osteoporosis, menorrhagia, and pre-menstrual syndromes, and post-surgical conditions.
Health risks of excessive calcium intake
Excessive intake of calcium supplements may lead to ectopic deposition of calcium salts inside the blood vessels, brain, and eye-lens. In the kidneys, it may lead to the formation of urinary system stones. However, dietary calcium does not attribute to any complications.
High serum calcium levels occur in hypercalcemia conditions. It is also noted with vitamin-D intoxication. The condition can lead to constipation, interferes with the absorption of iron, zinc, and copper. (Medical disclaimer).
≻≻- Zinc deficiency.
≻≻- Back to Nutrition articles from Calcium deficiency.
Further reading and References:
Calcium-Health Professional Fact Sheet.-Zinc Dietary Supplement Fact Sheet.
---
---