Custom Search
Thyme herb nutrition facts
Thyme herb is packed with numerous health benefiting phytonutrients (plant-derived compounds), minerals and vitamins that are essential for overall wellness. One of the popular among culinary herb plants, thyme originally is native to the southern Europe and Mediterranean regions.
Botanically, it belongs to the family of Lamiaceae, in the genus of Thymus.
There are many subspecies of which the most popular variety is Thymus vulgaris or French thyme.
French Thyme - Thymus vulgaris
Lemon thyme - (T.x citriodora)
Photo courtesy: wnbrgr.
The thyme plant is a perennial shrub with a thin woody base and square stems. It reaches about 15 to 30 cm in length, featuring small, light-green with paler underneath, slightly curved aromatic leaves. Small, fragrant, lilac or white color flowers appear in summer.
The other commonly grown varieties of thyme are lemon thyme (T.x citriodora), caraway thyme (T. herba barona) and wild thyme (T. septyllum). Either leaves as well as flowering tips; fresh or dried used for culinary purposes.
Health benefits of thyme herb
Thyme leaves offer significant levels of quality phytonutrients profile. Just 100 g of fresh leaves provides (% of Recommended daily allowance)
38% of dietary fiber,
27% of vitamin B-6 (pyridoxine),
266% of vitamin-C,
158% of vitamin-A,
218% of iron,
40% of calcium,
40% of magnesium, and
75% of manganese
However, zero cholesterol
.
Selection and storage

Dried thyme herb leaves.
Both fresh and dried forms of thyme herb can be available in the herb store. Buy fresh thyme whenever possible since it is superior in nutrients and rich in flavor. The leaves of fresh thyme should feature light green, and free from any dark spots or yellowing.
Fresh thyme should be stored in the refrigerator wrapped in a slightly dampen paper towel. Dried thyme can be kept in a tightly sealed glass container and stored in a cold, dark, and dry place, where it will stay fresh for up to six months.
Culinary uses
Thyme herb imparts intense flavor to the recipes, and therefore, should be added sparingly. In order to keep its fragrance and flavor intact, thyme herb is generally added at the final stages in the recipes. It is done so to prevent evaporation of its essential oils in cases of extended cooking methods.
Here are some serving methods: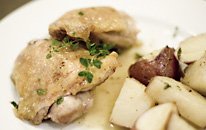 Thyme herb used to marinate chicken and vegetable recipes.
Photo courtesy: lizadaly
Medicinal uses
<<-Back to Herbs from Thyme herb. Please visit here for an impressive list of healthy herbs with complete illustrations of their nutrition facts, medicinal properties, and health benefits.
<<-Back to Home page.
Visit here for very informative pages on:-
Further resources:
1. The herb Society of America.
2. USDA National Nutrient database.
3. Stanford School of Medicine Cancer information Page- Nutrition to Reduce Cancer Risk.