Custom Search
Sunflower seeds nutrition facts
Sweet, nutty sunflower seeds are an excellent source of essential fatty acids, vitamins, and minerals. Sunflower kernels actually employed to extract edible oil at commercial levels. Besides being eaten as popular snacks, they are also used in the kitchen to prepare a variety of recipes.
Sunflower is a tall, erect, herbaceous annual plant belonging to the family of Asteraceae, in the genus, Helianthus. Its botanical name is Helianthus annuus. It is native to Middle American region from where it spread as an important commercial crop all over the world through the European explorers. Today, Russian Union, China, USA, and Argentina are the leading producers of sunflower crop.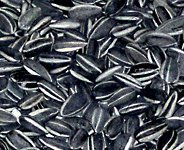 Sunflower seeds. Note for black conical seeds with a smooth surface and gray stripes.

Sunflower flourishes well under well-drained moist, lime soil. It prefers good sunlight. Domesticated varieties bear single large flowerhead (Pseudanthium) at the top. Unlike its domestic cultivar type, wild sunflower plant exhibits multiple branches with each branch carrying its own individual flower-head. The sunflower head consists of two types of flowers. While its perimeter consists of sterile, large, yellow petals (ray flowers), the central disk is made up of numerous tiny fertile flowers arranged in concentric whorls, which subsequently convert into achenes (edible seeds).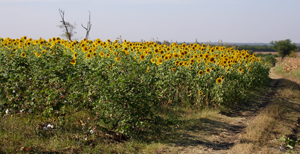 Sunflower field.
Sunflower seeds are about 6 mm to 10 mm in length and feature conical shape with a smooth surface. Their black outer coat (hull) encloses single, gray-white edible-kernel inside. Each sunflower head may hold several hundreds of edible oil seeds.
Health benefits of sunflower seeds
Delicious, nutty, and crunchy sunflower seeds are widely considered as healthful foods. They are high in energy; 100 g seeds hold about 584 calories. Nonetheless, they are one of the incredible sources of health benefiting nutrients, minerals, antioxidants and vitamins.

Much of their calories come from fatty acids. The seeds are especially rich in poly-unsaturated fatty acid linoleic acid, which constitutes more 50% fatty acids in them. They are also good in mono-unsaturated oleic acid that helps lower LDL or "bad cholesterol" and increases HDL or "good cholesterol" in the blood. Research studies suggest that the Mediterranean diet which is rich in monounsaturated fats help to prevent coronary artery disease, and stroke by favoring healthy serum lipid profile.

Like in other seeds and nuts, sunflower also are an excellent source of proteins loaded with fine quality amino acids such as tryptophan that are essential for growth, especially in children. Just 100 g of seeds provide about 21 g of protein (37% of daily-recommended values).

Also, sunflower seeds contain health benefiting polyphenol compounds such as chlorogenic acid, quinic acid, and caffeic acids. These compounds are natural anti-oxidants, which help remove harmful oxidant molecules from the body. Further, chlorogenic acid helps reduce blood sugar levels by limiting glycogen breakdown in the liver.

Further, the seeds are indeed a very rich source of vitamin-E; contain about 35.17 g per 100 g (about 234% of RDA). Vitamin-E is a powerful lipid soluble antioxidant, required for maintaining the integrity of cell membrane of mucus membranes and skin by protecting it from harmful oxygen-free radicals.

Sunflower kernels are one of the finest sources of the B-complex group of vitamins. They are very good sources of B-complex vitamins such as niacin, folic acid, thiamin (vitamin B1), pyridoxine (vitamin B6), pantothenic acid, and riboflavin.

Sunflowers are incredible sources of folic acid. 100 g of kernels contains 227 µg of folic acid, which is about 37% of recommended daily intake. Folic acid is essential for DNA synthesis. When given in anticipant mothers during the peri-conceptional period, it may prevent neural tube defects in the baby.

Niacin and pyridoxine are other B-complex vitamins found abundantly in the sunflower seeds. About 8.35 mg or 52% of daily required levels of niacin is provided by just 100 g of seeds. Niacin helps reduce LDL-cholesterol levels in the blood. Besides, it enhances GABA activity inside the brain, which in turn helps reduce anxiety and neurosis.

The seeds are incredibly rich sources of many essential minerals. Calcium, iron, manganese, zinc, magnesium, selenium, and copper are especially concentrated in sunflower seeds. Many of these minerals play a vital role in bone mineralization, red blood cell production, enzyme secretion, hormone production, as well as in the regulation of cardiac and skeletal muscle activities.
Just a handful of sunflower kernels a day provides much of the recommended level of phenolic antioxidants, minerals, vitamins, and protein.
Selection and storage
In the farm fields, sunflower heads can be ready for harvesting once they turn brown and dry. In general, the seeds intended to use in confectionery are somewhat larger, sweet, and have striped hulls. Oil-type sunflower seeds are characterized by small size, have more oil content, and feature black hulls. However, both types of seeds can be used for either purpose.
In the stores, one may choose whole-seeds, hulled, roasted, salted, etc., for use. Avoid thin, shriveled seeds or old stocks, as they tend to be out of flavor.
At home, store whole seeds at room temperature in a bin or jar. However, sunflower kernels should be placed inside an airtight container and stored in the refrigerator.
Culinary uses
At present, sunflower seeds are used mainly to press cooking oil. They are still favored in the confectionery and as bird feed. As in pumpkin seeds, sunflower seeds also are popular, tasty, low-fat snack item.
Here are some serving tips:
Roasted and salted, they can be enjoyed as a healthy snack.

They add crunchiness to salads.

Sprinkle sunflower kernels over fried-rice dishes or sautéed vegetables as garnish.

The seeds can be coated with chocolate, candied, or added in cakes, and muffins.

The seeds can be added to salad dressings, casseroles or baked goods.

In Germany and other Central European regions, the flour made from the seeds is used in making dark bread, sonnenblumenbrot (sunflower bread).

Sunflower seed butter, sold as SunButter, is a suitable alternative in peanut allergies.
Safety profile
Sunflower seed allergy is relatively rare, unlike peanut or tree nuts (cashew, walnuts, hazelnut, etc.) allergies. In some susceptible individuals, however, its reactions may include itchiness of the skin, sneezing, itchiness in the eyes, gastritis, vomiting, etc. It is advised, therefore, to avoid the use of seeds in known allergic persons. (Medical Disclaimer).
<<-Back to Nuts from Sunflower seeds. Please visit here for an impressive list of nuts with complete illustrations of their nutrition facts and health benefits.
<<-Back to Home page.
Visit here for very informative pages on:-
Further Resources:
1. USDA National Nutrient Database.
2. Stanford School of Medicine Cancer information Page- Nutrition to Reduce Cancer Risk.
3. Production guidelines-Sunflower-PDF.
---
---