Custom Search
Rosemary herb nutrition facts
Charmingly fragrant rosemary herb is the perfect potherb to have in your kitchen garden. It is one of the recognized herbs for its noteworthy health benefiting phytonutrients, antioxidants, and essential oils.
Rosemary belongs to the family of Lamiaceae, of the genus, Rosmarinus. Its botanical name is Rosmarinus officinalis.
The herb is thought to be originated in the Mediterranean region as a wild, strewing evergreen perennial shrub. Today, it is grown in nearly all parts of the Mediterranean area and Asia Minor as a major culinary herb.
Light-blue rosemary flowers.
(Photo-geishaboy500
Rosmarinus officinalis Note needle-like narrow, pointed leaves.
Rosemary flourishes in well-drained, alkaline soil. It prefers sunny condition but at the same time needs shelter from gusty winds. The plant reaches about 1.5-3 meters in height. Its bushy stems and downy young shoots are covered with about 1 inch long, narrow, needle-like aromatic leaves; dark green above and grayish underneath. The plant bears short racemes of small sea-blue flowers appearing in early summer.

Rosemary herb. Note for narrow, dark green leaves.
The plant parts; flowers and leaves have a fragrance that is pungently aromatic and somewhat camphoraceous (camphor-like).
Apart from culinary and medicinal purpose, traditionally rosemary shoots, flowers, and leaves are being used in festivals and wedding ceremonies to decorate banquet halls as incense to ward off bad influences.
Health benefits of Rosemary herb
Selection and storage
Rosemary is generally grown as a garden herb so that its fresh leaves can readily be available for use.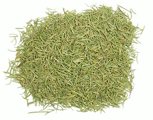 Dried rosemary herb leaves.
Photo courtesy: norwichnuts
If you need to buy from the herb store, choose fresh rosemary over the dry form of the herb since it is superior in quality and has a subtle flavor. Dried rosemary is stronger and quite pungent in flavor, favored particularly in savory meat dishes. Fresh leaves should feature deep green leaves, free from spots or yellowing.
Fresh rosemary herb should be stored in the refrigerator inside plastic bags. Dried rosemary should be kept in an airtight container and placed in a cool, dark, and dry place where it will stay fresh for several months.
Culinary uses
Wash fresh leaves in cold running water or rinse for few minutes to remove any dirt or pesticide residues. In order to keep the fragrance and flavor intact, the herb is generally added to cooking recipes at the last moments, since prolonged cooking would result in the evaporation of its essential oils.
Here are some serving tips:
Medicinal uses of Rosemary
Safety profile
Rosemary herb may cause abortion in the pregnant woman when consumed in large amounts. Further, in some rare cases, rosemary oil products may cause allergic skin reactions. In toxic doses, rosemary has been found to cause kidney dysfunction and might exacerbate existing neurological conditions like epilepsy, neuroses, etc. (Medical disclaimer).
<<-Back to Herbs from Rosemary herb. Please visit here for an impressive list of healthy herbs with complete illustrations of their nutrition facts, medicinal properties, and health benefits.
<<-Back to Home page
Visit here for very informative pages on:-
Further Resources:
1. USDA National Nutrient Database.
2. Stanford School of Medicine Cancer information Page- Nutrition to Reduce Cancer Risk.
3. Antimicrobial activity of Rosmarinus officinalis L.- PDF.
4. Rosemary production- Department of agriculture, forestry & fisheries, Republic of South Africa-PDF.