Custom Search
Dill weed (herb) nutrition facts
Dill weed is a unique perennial herb with pleasant anise-like flavor. Its sprigs (leaves), as well as seeds, are employed as a seasoning in various cuisines worldwide. Dill is the member of the Umbelliferae family, a large group of flowering herbs and spices that also includes caraway, parsley, cumin, fennel, etc.
Botanically, dill belongs to the family of Apiaceae, in the genus: Anethum, and scientifically named as Anethum graveolens.
Dill herb (Anethum graveolens).
Dill sprigs (close-up).
Note slender wisp and fern like dill sprigs.
Dill is native to Mediterranean and Eastern-European regions. Just like in cilantro, it too requires warm summer climates with well-drained fertile soil to flourish. It grows 1 to 2 feet in height and features dark-green leaves (sprigs) that are wispy and fernlike, have a soft texture with rich, pleasant anise aroma and sweet taste.
Dill seeds, used as condiment spice, are similar in taste and appearance to "caraway seeds." They feature light brown color, oval shape with vertical ridges and flavor that is aromatic, sweet, and citrus, but also slight bitterly.
Health benefits of dill
Dill herb has all the characters to consider it has one of the most valued functional foods. 100 g of dill weed provides only 43 calories, but its phytonutrients profile is no less than any other high-calorie food source; be it nuts, pulses, cereals, or meat group.
100 g fo this herb provides (%of RDA per 100 g):
37.5% of folates (vitamin B11),
14% of vitamin B-6 (pyridoxine),
23% of riboflavin (vitamin B-2),
140% of vitamin-C,
257% of vitamin-A,
21% of calcium,
82% of iron and
55% of manganese.
(Note: RDA- Recommended daily allowance)
Selection and storage
Fresh dill herb bushel in a market.
Fresh dill weed, as well as dill seeds, can be available in the markets all-round the year. Try to buy fresh dill sprigs, since it is superior in flavor and rich in many vital vitamins and antioxidants such as ß-carotene, vitamin-C, folates, etc.
Fresh dill should feature vibrant green color sprigs and firm stems. It should be free from any spoilage/bruises or yellowing. Buy dill that has been grown using organic techniques since this will give you more assurance of pesticide free, aromatic, as well as nutritious sprigs.
At home, fresh dill weed should be stored in the refrigerator kept in a zip pouch or wrapped in a slightly damp paper towel and should be used as early as possible since it loses flavor and nutrients quickly if kept for longer periods.

Dill seeds.
Dill seeds, as well as dill oils, can also available in the markets. The seeds used as spice and condiment. Good-quality dill seeds release pleasant, sweet and slightly peppery flavor when rubbed between index and thumb fingers.
In the stores, buy whole dill seeds instead of its powder since oftentimes it may get adulterated with other spicy powders. The seeds can be stored in cool, dry, dark place inside airtight containers for many months and can be milled using handmill as and when required. Ground dill powder should be stored inside the refrigerator in airtight containers and should be used as early as possible since it loses flavor rather quickly.
Medicinal uses
Culinary uses
Fresh dill weed should be washed thoroughly in the water in order to remove sand and dirt and to rid off any residual pesticides. To keep the fragrance and aromatic flavor intact, dill is generally added in the final moments of preparation.
Here are some preparation tips: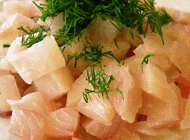 Dill herb dressed over tilapia cubes.
Photo courtesy: nate
<<-Back to Herbs from Dill weed. Please visit here for an impressive list of healthy herbs with complete illustrations of their nutrition facts, medicinal properties, and health benefits.
<<-Back to Home page.
Visit here for very informative pages on:-
Further reading:
1. The Herb Society of America's Essential Facts for Dill weed-Anethum graveolens- Pdf.
2. USDA National Nutrition database.