Custom Search
Caraway seed nutrition facts
In the traditional Europian cuisine, caraway seed is one of the dominant spices featuring in several savory dishes. Strongly aromatic, caraway is a member of the parsley or Umbelliferae family; a large family of plants that also includes commonly known herbs and spices such as dill, anise,fennel, and cumin,.
The scientific name of caraway is, Carum carvi.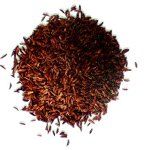 Caraway (Carum carvi) seeds. Note for slightly curved cumin like brown seeds.
Caraway grows extensively all over the Europe, North Africa, and Asia Minor regions. It is a biennial, herbaceous plant which blooms once in every two years. Its creamy flowers appear in umbels. The plant grows to about two feet in height and bears small feathery leaves. Caraway seeds, having similar in appearance as that of cumin, have a crescent shape, dark brown, with up to five stripes (ribs) running lengthwise on their surface.
Caraway harvested during the early morning hour of the day to avoid spilling and wastage of its seeds in the field. They are then stacked in bundles and left to dry under sunlight. The seeds extracted by threshing, either manually or using machines.
Health Benefits of caraway seeds
Selection and storage
Caraway seeds can be available year around in the markets either in the form of seeds or milled-powder forms. In the store, buy whole caraway seeds instead of its powder since, often it may contain adulterated spicy powders.
Once at home, store in cool, dry, dark place inside air sealed containers for many months, and can be milled using an hand-mill whenever required. Ground and powdered caraway should be stored in the refrigerator in airtight containers and should be utilized as early as possible since it loses its flavor rather quickly.
Medicinal uses
Culinary uses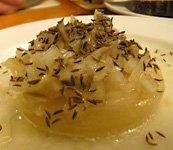 Marinated cheese with onion and caraway seeds.
Photo courtesy: wordridden
Caraway seeds feature warm, sweet, and slightly peppery aroma when squeezed between index and thumb fingers. They used extensively in European and Mediterranean cooking.
To keep their fragrance and flavor intact; caraway seeds roasted gently under low flame and ground just before using them in a recipe.
Here are some serving tips:
Safety profile
Caraway, just as other fellow spices, should be used in small amounts. Too much of spices in the food can cause gastrointestinal irritation and stomach ulcers.(Medical Disclaimer).
<<-Back to Spices from Caraway seed. Please visit here to visit an impressive list of healthy spices with complete illustrations of their nutrition facts and health benefits.
<<-Back to Home page.
Visit here for very informative pages on:-
Further resources:
1. USDA Agricultural research service.
2. Gernot-Katzer's spice pages.