Processing of rooibos tea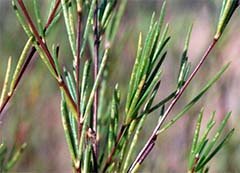 A. linearis. Note needle-like green leaves and light brown stems.
After harvesting, rooibos leaves and stems undergo further treatment to obtain the end-use product which is ready for infusion as an herbal tea.
Fermentation: This process follows the same steps practiced by the local inhabitants, using traditional methods. Here, its needle-like leaves and stems are subjected to bruising and wetting with a sprinkling of water. The damp leaves are then allowed to ferment (sweating) for 12 hours. A process of enzymatic oxidation takes place during which the leaves change from green to a distinctive amber-red hue. Finally, the rooibos is spread out in the sun to dry.

Unfermented or green Rooibos: Here, the harvested leaves are sun-dried immediately, without the fermentation step, as in the preparation of green teas. It has a lighter color compared to traditional rooibos but composes relatively higher levels of phenolic antioxidants.
Harvesting and storage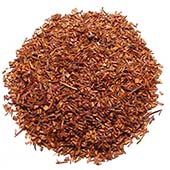 Fermented red rooibos tea leaves.
Similar to numerous other types of dried herbal teas, rooibos stands out as an exotic offering in the United States. For authenticity and quality, choose from novelty shops specializing in herbal tea products. Fermented red bush tea, as well as green types in containers and airtight packs, are put for sale in the supermarkets. Select superior-quality organic produce that is devoid of any heavy metals or pesticides.
At home, store in air-seal boxes away from sunlight and moisture. Use rooibos early as it loses flavor.
Preparation of rooibos tea
In its traditional bastions, rooibos leaves are directly added to water and boiled together in teapots for 10-15 minutes before straining under gentle heat.
Alternatively, pour on about 150 ml of hot water over 1 teaspoonful of dried leaves and allow to steep for 7-10 minutes and strain. Add some honey or sugar for the taste of the infusion. Rooibos has a fruity aroma and is appealing to all tastes since it contains little tannins, and therefore, less astringent.
Here are some other serving tips of rooibos:
Rooibos can be enjoyed up to 5-6 cups every day for long-lasting health benefits.

It can be consumed with milk, as rooibos latte.

Rooibos infusion can also blend well in smoothies, soups, and marinades as a flavoring and coloring agent.
Safety profile
There are no known reported cases of rooibos consumption toxicity. It can be used safely in children and pregnant women.(Medical disclaimer).
≺≺ Read Lemon balm tea health benefits
.
≺≺ Back to Herbal teas from Rooibos tea. Visit here for an impressive list of all variety of herbal tea with complete illustrations of their nutrition facts and health benefits.
≺≺ Back to Home page.
Further Resources and reading:
South African Journal of Botany-E.Joubert D.de Beer. pdf. (opens in new window).
---
---