Harvesting and storage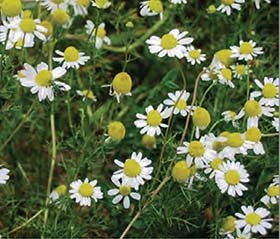 Beautiful chamomile flowers.
Full blooms are either handpicked or harvested by hand-raking for the highest quality tea market. However, it is a very labor-intensive and costly process.
Shade-dried flowers are then sorted out for any foreign material, debris before processing. Flowers are then carefully graded before selling in bulk to factories where they further processed and packed in tea bags/sachets and small storage tins. Chamomile flowers and herb parts are also blended with other herb products.
Buy freshly harvested and shade-dried chamomile flower heads packed in tea bags or in airtight tins from the specialty herbal product store. Look for authenticity, and avoid any adulterated products.
Preparation of chamomile tea
German chamomile flowers for brewing tea give the infusion a delicate light blue color. German Roman chamomile, on the other hand, gives the infusion a delicate light straw color. Freshly harvested and shade-dried flowers should be used within 6 months for maximum health benefits.
Put the fresh or dried chamomile flowers into a teapot or directly into a mug. Pour on the boiling water and leave to infuse for about 5 minutes or longer if you prefer a stronger flavor. Strain the tea, and if you wish add a small amount of caster sugar or honey and stir to dissolve.
Here are some other serving tips:
Drink 1 to 4 cups of chamomile tea everyday for long-lasting health benefits.

Chamomile is a caffeine-free tisane (herbal infusion) and work as mild sedative. It can be enjoyed as bedtime drink for sound sleep.

Fresh chamomile petals also employed as a flavoring garnish in salads, soups, stews, marinades as well as in vegetable dishes.
Safety profile
Chamomile tea and other products may not be recommended in people with known sensitivities or allergies to the daisy or Asteraceae family plants such as chrysanthemums, ragweed, etc.
Chamomile products are also not indicated in patients with atopic hay fever or asthma. It is contraindicated in women during their early months of pregnancy due to its possible birth defects in the newborn. (Medical disclaimer).
Also read ≻≻-
≻≻- Lemon balm tea Health benefits.
≻≻- Rooibos tea Health benefits.
≻≻- Back to Herbal teas from Chamomile tea. Visit here for an impressive list of all variety of herbal tea with complete illustrations of their nutrition facts and health benefits.
≻≻- Back to Home page.
Further Resources:
---
---