Selection and storage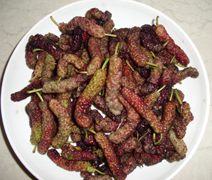 Mulberries.
Black mulberries, in particular, are more flavorful and tasty than their fellow white, and red varieties. Their peak season is May through August, while the latter two types can be readily available until late spring.
In the local stores, look for fleshy berries flavorful and heavy in hands. Avoid bruised, bleeding, and sunken berries.
Mulberries spoil rather quickly. Once at home, preserve them in a zip pouch unwashed, and place them inside the refrigerator where they stay fresh for up to 2-3 days. To eat, wash the berries in cold water in a container (bowl) instead of in running water. This way, you avoid injuring them. This method also brings the berries to room temperature and enhances their flavor and taste.
Preparation and serving methods
After cleaning, gently pat them dry using a soft cloth. Take care not to squeeze, or press the berries, else they will deface and stain cloth, hand, etc. Then, trim away its stem end by simply pinching it off with fingers or using small scissors or a paring knife.
The berries have found their unique place in the kitchen, be it a simple mulberry pie or a somewhat more complex mulberry wine. They, either fresh or dry, are also sought after in a variety of dishes.
Here are some serving tips:
Fresh mulberries are generally eaten as they are, without any seasonings/additions.

They combine well with other berry salads.

They can be a great snack between meals.

Mulberries are favored in jams, jellies, tart syrups, etc.

Dried mulberries can be used in pie fillings, mulberry muffins, cookies, cakes, etc.

They are used in ice-creams, smoothies and yogurt as in strawberries, raspberries,etc.
≻≻-Back to Fruits from Mulberries nutrition. Visit here for an impressive list of all varieties of fruits with complete illustrations of their nutrition facts and health benefits.
≻≻-Back to Home page.
Further reading and Resources:
USDA National Nutrient Database. (opens in new window)

Stanford School of Medicine Cancer information Page- Nutrition to Reduce Cancer Risk (Link opens in new window).
---
---