Medicinal uses of goji berry
Almost all parts of the goji plant have been found utilization in the traditional Chinese medicine. Chinese physicians advocate different parts of the plant for each of the four divisions of the year. Its leaf in spring, flower in summer, fruits in autumn and root in winter.

The berries employed in medicines to cure inflammations, as a blood thinner, a healh tonic for skin and eyes, to relief nervousness, and to improve memory.
Selection and storage
In the United States, dried goji berry available in the supermarkets and Asian stores. Buy authentic, branded berries in pack, or bins.
In the traditionally cultivated farms, only ripened berries handpicked from the Goji bush. They are then spread out on stacked, drying beds for 10-16 hours under shade until their waxy skin shrinks and shrivel. They are then dried under sunlight until there is only 10% moisture left in the berries. Once dried the berries are sorted and stored in bags and transported to the warehouse for packaging.
Dried goji can store well for up to one year. In high humid environments, store them in the refrigerator for the extended lifespan.
Raw, fresh berries last for 2-3 days at cold, room temperatures, and for a couple of days in the fridge. Dried berries, however, can store well for several months.
Preparation and serving method
Completely ripe, fresh berries can be eaten hand-picked straight from the bush. Being a member of Solanaceae fruits, eating raw goji could be toxic and therefore, should be avoided.
Dried berries can be consumed on their own like raisins. Soaking them in lukewarm water for 5-10 minutes makes them soft and plump.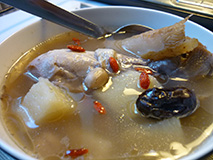 Jujube fruit, wolfberry, chicken soup. (Photo-Singzy)
Here are some serving tips:
Fresh berries can be eaten out of hand as in grapes.

Dry fruits can be used in a much similar way like raisins, in cakes, tart, bread, muffins, etc.

Add them in tea with lemon.

Dried berries can be added to soup with spices and shredded chicken.
Safety profile
Being a member of the nightshade family of plants, goji berries also contain solanine, a glycol-alkaloid toxin.
Patients on anticoagulant medications like warfarin should be advised not to consume these berries and their products like goji berry juice as it may potentiate the anticoagulant effect of warfarin and increase the risk of bleeding. (Medical disclaimer).
<<-Back to Fruits from Goji berry nutrition. Visit here for an impressive list of all variety of fruits with complete illustrations of their nutrition facts and health benefits.
<<-Back to Home page.
Further reading and Resources:
The wolfberry.- pdf.
---
---