Selection and storage
Summer squash, including crookneck, begins arriving in the markets from June until the end of September. In the markets, buy fresh, bright, small to medium squashes just short of maturity.
Avoid very large, hard-shelled, and over-mature squashes as they tend to be unappetizing. Also, avoid those with cuts, spots, bruised, etc.
Contrasting with other winter squashes, crooknecks do not last longer than 4-6 days. At home, store fresh squash, as you do with other summer squashes like zucchini, in a plastic bag, and place inside the vegetable compartment in the refrigerator, set at 95 degrees of relative humidity.
Preparation and serving methods
At home, wash fruits in cold water to remove any surface sand. Trim the stem end. Tender crookneck can be used with intact skin. Cut the fruit into slices, small cubes, or wedges as you may desire them in cooking.
Crookneck is used in a variety of recipes like baked, stuffed, grilled, roasted, etc.
Apart from its fruits, summer squash flowers, including crookneck blossoms, are one of the sought-after items to prepare side-dish. Male blossoms generally picked up, while female flowers left to grow onto fruits. Small numbers of female flowers with intact, very tiny fruit (baby squash) are also favored as a special delicacy.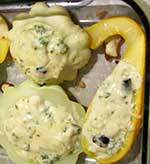 Stuffed crookneck and pattypan squash recipe. Photo courtesy: mlcastle.
Here are some serving tips:
Crookneck squash is inexpensive, healthy addition to meals. It can be used in substitution to another type of squash without changing the flavor of the dish.
Fresh, tender, thin sliced crookneck squash can be added to vegetable salads.

The squash blossoms dipped in chickpea flour batter, fried in oil and enjoyed as delicious fritters!

As in pumpkin, it can be employed in soups, pies, casseroles, cakes, pudding, etc.

Baked and pureed, it can make a delicious soup.
Safety profile
Allergic reactions are rare after consumption of crookneck squash. It can be safely used in pregnant women and infants. (Medical disclaimer).
≻≻-Back to Vegetables from Crookneck Squash. Visit here for an impressive list of vegetables with complete illustrations of their nutrition facts and health benefits.
≻≻-Back to Home page.

Further reading:
---
---