Selection and storage
Bottle gourds can be available around the season in the regions wherever suitable conditions for their growth exist. In the markets, look for fresh produce featuring tender, medium size, uniform, light green color fruit. Take a close look at its stem, which may offer a valuable hint whether the produce is fresh or aged.
Avoid those with oversize, mature, yellow-discoloration, cuts, and bruise on their surface. Tiny spots on the surface, however, would not lessen their quality.
At home, store them in the refrigerator set at adequate humidity where they stay fresh for 3-4 days.
Preparation and serving methods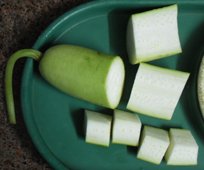 Bottle gourd cut sections. Note for ice-white, spongy flesh, and tiny, soft seeds.
Bottle gourd is one of the most common vegetables in continuous use since ancient times. To prepare, wash the fruit in cold water and dry mop using a soft cloth or paper towel. Trim its top end in case of round or pear-shaped calabash and either end in case of an elongated gourd. Peeling may not be required in the case of tender fruits. Chop the fruit into uniform chunks for even cooking.
Here are some serving tips:
Fresh calabash is used in a variety of stews, curries, sweet recipes across the world. In the Indian subcontinent where it is popularly known as lauuki, employed in the preparation of sabzi, sambar, chutney, soup, raita, etc.

In India and Pakistan, its flesh is used to prepare a mouth-watering sweet dish, lauki-ki-halwa.

In Africa, where it is thought to have taken its origin, calabash is used in stews with meat, poultry, and seafood.

Ginisang-upo (sauteed bottle gourd) is a popular stir-fried dish among the Filipinos.

In India, bottle gourd juice is consumed for its little known health benefits in traditional meidcines.

The gourd is known as yugao in Japanese, where its white flesh shaved into thin strips 3 cm wide and 3 mm thick, then either dried in the sun or dehydrated to prepare Kanpyō (かんぴょう or 干瓢). Kanpyō strips used in sushi rolls in place of nori.
Safety profile
Some bottle gourds develop naturally occurring cucurbitacins in excess amounts under environmental adversities and may accumulate terpenoid toxic compounds such as cucurbitacin B, D, G, H, etc.
Bottle gourd poisoning occurs when a bitter fruit is consumed either raw or juiced. Incidents of serious illness and death have been reported in India after drinking bitter bottle gourd juice for its purported health benefits. Symptoms may include vomiting, stomachache, diarrhea and can occur within minutes of ingestion of toxic juice which may follow serious illnesses like bleeding from the gut, shock, and death.
ICMR (Indian Council of Medical Research) recommends the following guidelines regarding bottle gourd consumption to the public:
1. Taste a small piece of bottle gourd before extracting the whole fruit juice to ensure that it is not bitter. If found so, then discard the whole fruit.
2. Bitter bottle gourd juice should not be consumed at all.
3. Do not mix bottle gourd juice with any other juice.
4. In case of discomfort after consumption (nausea, vomiting, diarrhea, or any feeling of uneasiness), the person should be immediately taken to a nearby hospital. (Medical disclaimer).
Also read ≻≻
≺≺ Ash gourd (Chinese winter melon) nutrition facts.
≺≺ Snake gourd (Chichinda) nutrition facts.
≺≺ Bitter gourd (bitter melon) nutrition facts.
≺≺ Ivy gourd (kundru) nutrition facts.
≺≺ Pointed gourd (parwal) nutrition facts.
≺≺ Ridge gourd (Luffa) nutrition facts.
≺≺ Back to Vegetables from Bottle gourd nutrition. Visit here for an impressive list of vegetables with complete illustrations of their nutrition facts and health benefits.
≺≺ Back to Home page.
Further reading:
Indian Journal of Medical Research (IJMR)- Assessment of effects on health due to consumption of bitter bottle gourd (Lagenaria siceraria) juice.
---
---