Selection and storage
Blackberry season generally lasts from June until September. Fresh berries can either handpicked or harvested using machines in large-scale farms. In general, the berries are ready to be harvested once they come off receptacle easily and have turned into deep color. At that stage when they are supposed to ripen well and the sweetest.
In the stores, choose fresh berries featuring bright, shiny, completely black, and plump in constancy. In general, the berries are packed in a solid box, spread out evenly in a single layer.
Avoid unripe (purple), overripe, bruised, damaged, and mushy (soft) berries. In general, the berries are highly perishable and sensitive to handling. At home, use them as soon as possible.
To store, place them in the refrigerator where they stay fresh for up to 4-5 days.
Preparation and serving methods
Fresh blackberries can be eaten out of hand directly from the bush. If you are purchasing from the stores, they best used immediately.
To prepare, do not wash them until you are ready to use. Just rinse in a bowl of cold water, swish around to remove any surface dirt. Gently fish them out of the water and pat dry using an absorbent towel. This method will also help revive them back to normal room temperature, increases their flavor and enrich taste.
Here are some serving tips: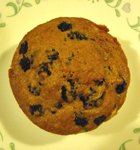 Blackberry muffin!
Photo courtesy: faul
Blackberries make a delicious addition to fruit/vegetable salads. They can be added to ice-creams.

Add pureed, and sieved to prepare juice, jams, jellies, syrup, and sorbet.

Pureed, and sieved, added in juice, jams, jellies, syrup, and sorbet preparations.

They add a special flavor to muffins, bread, pie, pastry, crumbles, tarts, and puddings.
Safety profile
Allergy to blackberries is uncommon and rare. There are only a few reported cases, particularly in some sensitized individuals. The reaction may be thought to be due to the presence of salicylic acid in the berries which, may cause symptoms like swelling and redness of mouth, lips, and tongue, eczema, hives, skin rash, headache, runny nose, itchy eyes, wheezing, gastrointestinal disturbances, depression, hyperactivity, and insomnia. Individuals who suspect an allergy to these fruits may want to avoid them. (Medical disclaimer).
≻≻-Back to Fruits from Blackberries. Visit here for an impressive list of all varieties of fruits with complete illustrations of their nutrition facts and health benefits.
≻≻-Back to Home page.
Further resources:
Growing blackberries-Department of fruit science, Missouri state university(pdf-Link opens in new window).

Stanford School of Medicine Cancer information Page- Nutrition to Reduce Cancer Risk (Link opens in new window).
---
---