Selection and storage
Commercial arrowroot is available in the form of its powder (flour) and is generally intended to be used as a stabilizer/thickener in the food industry.
Once added to boiled water, it turns into thin, translucent, odorless jelly. The root itself, however, has found no or minimal use in cooking.
Fresh tender arrowroot can be eaten raw and in cooking as you may use it in a way like any other tubers. However, mature roots are exceedingly fibrous and thus, less appetizing.
If you intend to buy arrowroot flour, look for a branded product displaying authenticity, quality, and pureness. Adulteration with cheap substances such as cornstarch, potato powder, tapioca, etc., is a common practice. Do not buy loose/opened packs.
Once at home, store the pack in a cool, dry place away from moisture and direct sunlight. Do not refrigerate.
Preparation and serving methods
To prepare arrowroot powder, select fine-quality tender roots. Wash them thoroughly in cold water. Scrape or peel the outer layer. At the processing units, the tubers are pounded in a mortar until they become a single mass. A clear milk-like liquid is extracted which is then filtered using a cheesecloth. The milk obtained thus is then dried under sunlight to get a fine, white arrowroot powder.
In general, arrowroot flour is added as a thickener, colloidal stabilizer, a binding and leavening agent in liquid-based recipes. It has several advantages over other starchy flours. It mixes well in low-temperature cooking and gives stable viscosity to the recipes. It has a neutral taste, prevents dextrinization (breaking carbohydrates into dextrins), and can be added to acidic-based recipes. However, it will not get along well with dairy-based recipes as it turns them slimy. One tablespoonful of flour is enough to thicken one cup of liquid.
Here are some serving tips: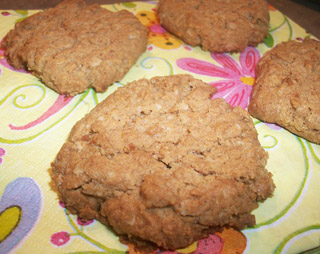 Oatmeal almond butter cookies with added arrowroot flour.
Photo courtesy: Salwa's
Arrowroot flour is employed in confectionaries as a thickening agent to make cakes, gels, and mousse; and in kitchens to prepare soups, sauce, dressings, gravy, etc.

It is used in puddings, creams, and flans.

Mix its flour to give perfect shapes to biscuits, cookies, and pastries while reducing cholesterol-rich solid fats (trans-fats).
Safety profile
Arrowroot is relatively safe for human consumption. It is gluten-free. Its powder may be added to baby foods and infant formulas. (Medical disclaimer).
≻≻- Back to Vegetables from Arrowroot. Visit here for an impressive list of vegetables with complete illustrations of their nutrition facts and health benefits.
≻≻- Back to Home page.
Further Reading (Links open in new window)
USDA National Nutrient Database. (opens new window)

Maranta arundinacea L-University of Florida-IFAS Extesion. (Link opens in new window).

US National Library of Medicine National Institutes of Health The development of low glycemic index cookie bars from foxtail millet (Setaria italica), arrowroot (Maranta arundinacea) flour, and kidney beans (Phaseolus vulgaris).
---
---