Buying guide for American cheese
Process American cheese is often sold in blocks, packed in individual slices (cheese singles), sometimes with plastic wrappers or wax paper separating them.
When buying, check for a reliable source and read the labels to make sure that the product is well within its expiration date.
Also, check for appearance, smell, and flavor. Avoid if strong flavor (ammonia), sour milk, unclean odors. Look for the trimmings if they are clean and free of mold, soft spots, etc.
Storing
Like much other fresh cheese, American processed cheese also spoils quickly if kept at room temperatures, even for a few hours.
At home, store in the bottom vegetable/fruit bin set between 35 and 45 degrees F, and a high humidity level.
Discard if stored and wrapped cheese becomes overly dry, develop a slimy texture and exhibit ammoniated or any off odors.
Culinary uses of American cheese
American cheese is a popular pasteurized processed cheese in the U.S. It is usually orange in color due to the addition of annatto food colorant, but can also be cream or white.
American cheese is a fantastic ingredient that allows the flavor of other foods with which it is paired to shine through without giving up distinct cheesiness.
It melts at low temperature smoothly without becoming greasy, or grainy. It does not flow when it is melted and mixes easily with hot dishes sauces, adding its unique cheesy zest throughout the mixture.
Brie is traditionally cut into small wedges and eaten with plain toast crackers. You can also pair it with all sorts of toppings and drinks. Use melted brie in many different dishes to enjoy its unique, gooey deliciousness.
Cut brie into triangular-shaped slices. Its rind is edible, along with the rest of the cheese.
Here are some serving tips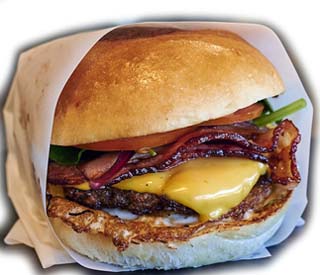 American process cheese slice and burger. Courtesy: Marco Cosmos
It is the preferred cheese for such foods as the grilled cheese sandwich, the cheeseburger, and the cheese omelet.

American cheese singles is one of the ready-to-use dairy items in sandwiches, burgers, cheese snacks, soups and sauces, cheese-stuffed entrees, baked goods, vegetables in cheese sauce, meat preparations and casseroles.

American cheese is often a constituent in the preparation of Southern-Style pimento cheese, blended to either a smooth or chunky paste, to be used in a dip or spread.
Safety profile
American processed cheese is one of the very high saturated fats, cholesterol and sodium food items.
High salt diet may cause water retention and elevated blood pressure.
It composes about 18.1 g of saturated fats and 98 mg of cholesterol (32.6% of Recommended daily intake)/3.5 Oz, making it one of the high saturated fat/cholesterol food items. Saturated fats raise your LDL (bad) cholesterol which increases the risk for heart disease and stroke.
Alternatively, low-fat or fat-free types of processed cheeses may be recommended for people on a diet.
(Medical Disclaimer: The information and reference guides on this website are intended solely for the general information of the reader. It is not to be used to diagnose health problems or for treatment purposes. It is not a substitute for medical care provided by a licensed and qualified health professional. Please consult your health care provider for any advice on medications.)
Also read ≻≻-
≻≻ Feta cheese nutrition facts.
≻≻ Cheddar cheese nutrition facts.
≻≻ Ricotta cheese nutrition facts.
≻≻ Back to Dairy products from American cheese nutrition facts.
≻≻ Back to Home page.
Further Resources:
USDA National Nutrient Database. (opens in new window).

U.S Food and Drug Administration-CFR - Code of Federal Regulations Title 21. (opens in new window).

USDA Commodity Requirements-DPPC5-Pasteurized Process American Cheese for use in Domestic Programs. -pdf.
---
---