Custom Search
Spinach nutrition facts
Spinach (Spinacia oleracea) is one of incredible green-leafy vegetable often recognized as one of the functional foods for its health benefiting nutritional, antioxidants and anti-cancer composition. Its tender, crispy, dark-green leaves are one of the favorite ingredients of chefs all around the world.
Botanically, it belongs to the Amaranthaceae family, and its scientific name: Spinacia oleracea.
Spinacia plant grows to about 1 foot in height. Although it can be grown year round, its fresh greens are best available soon after the winter season from March through May in the Northern Hemisphere, and from September until November in the South of the equator.
| | |
| --- | --- |
| | |
| Spinach (Spinacia oleracea). | Spinach plant with broad green leaves. |
At least, two varieties of spinach are cultivated for their edible leaves; Savoy type with dark-green crinkle (wrinkled) leaves and flat-leaf variety with smooth surfaced leaves.
Health Benefits of Spinach
Regular consumption of spinach in the diet helps prevent osteoporosis (weakness of bones), iron-deficiency anemia. Moreover, its soft leaves are believed to protect the human body from cardiovascular diseases and cancers of colon and prostate.
Selection and storage
Spinach is best available during the winter season. In the markets, buy fresh leaves featuring dark-green color, vitality, and crispiness. Avoid those with dull/sunken leaves, yellow discoloration, and spots.
Once at home, wash them thoroughly in clean running water, and rinse in salt water for about 30 minutes in order to remove dirt and any insecticide residues.
Although it can be stored in the refrigerator for up to a week, fresh leaves should be eaten at the earliest in order to get maximum nutrition benefits.
Preparation and serving methods
Wash leaves in cold water before using in cooking. Gently pat them dry using a tissue or soft cloth. Trim away tough stems. Raw leaves can be either chopped or used as they are in a variety of recipes.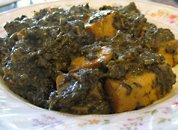 Palak-paneer. Thoroughly cooked spinach leaves mashed, sauteed and mixed with cheese cubes.
Here are some serving tips:
Safety profile
<<-Back to Vegetable Nutrition from Spinach. Visit here for an impressive list of vegetables with complete illustrations of their nutrition facts and health benefits.
<<-Basella (Malabar spinach) nutrition facts.
<<-Back to Home page.
Click this link to visit very informative pages on:-

Further Reading: