Custom Search
Basil herb nutrition facts
The king of herbs basil herb is one of the ancient and popular herbal plants brimming with important health-benefiting phytonutrients. This highly prized plant revered as "holy herb" in many cultures all around the world.
Basil belongs to the family of Lamiaceae, in the genus: Ocimum. Its scientific name is "Ocimum basilicum."
| | |
| --- | --- |
| | |
| Asian or "holy" basil (Ocimum sanctum). Large, hairy plant with pink flowers and pink leaves. | Asian basil; close up view. |
Basil is originally native to Iran, India and other tropical regions of Asia. This bushy annual herb specially grew for its medicinally useful leaves and seeds. Basil grows best in warm, tropical climates. The fully-grown plant reaches about 100 cm in height. Its leaves vary from light green to dark green and purple, smooth and silky, about 1 to 2.5 inches long and 0.5 to 1 inch broad with "opposite" arrangement. The flowers are quite large, white or purple, arranged in terminal spikes.

Mediterranean sweet basil
(Ocimum basilicum). Note for smooth dark green leaves.
Many different subspecies of basil herb exist. The "Mediterranean" cultivar which typically known as "sweet basil" has light green leaves. In contrast, "Asian basil" (Ocimum sanctum) features large, hairy stems and stalks with pink flowers, purple or pink leaves in addition to possessing stronger "clove"-like flavor. There is also "lemon basil," which has pleasant lemony flavor. Thai basil (O. basilicum 'Horapha') is similar in characteristics to Asian basil but features narrow, pointed, light green color leaves with a sweet licorice-like aroma.
The European "sweet basil" is mild and possesses sweet anise/clove flavor. For the same reason, it is also recognized as culinary basil since it is used extensively in the cuisine all over the world.
Health benefits of Basil herb
Selection and storage
Sweet basil employed generously in the cooking in the Mediterranean countries. Often, it is grown as a potherb in the backyard so that its fresh leaves and flowers can be readily harvested for immediate use.
In the herbal stores, choose fresh organic basil over its dry form since fresh leaves carry essential oils and therefore, superior in quality and flavor. Basil should be free from dark spots and yellowing.
Dry basil leaves and seeds can also be found in the specialty herb stores. However, sundried as well as radiation-treated basil leaves may contain significantly decreased concentrations of essential oils, vitamin-C, and carotene levels.
Store fresh sweet basil herb in the refrigerator set at proper humidity. Dried basil should be kept in a tightly sealed glass container, in a cool, dark, and dry place where it will stay fresh for up to six months.
Preparation and serving methods
Wash fresh Basil in cold running water or rinse for few minutes to remove any dirt or pesticide residues. Sweet basil is added at the final moments in the recipes to keep its fragrance and flavor intact; since prolonged cooking results in evaporation and loss of its essential oils.
Fresh basil leaves added to flavor any vegetable, poultry, or meat dish. The herb is also used in tomato and egg dishes, stews, soups, and salads.
Here are some serving tips: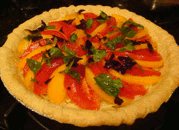 Tomato-onion cheese tart topped with basil.
Photo courtesy: Jennifer
Medicinal uses of basil herb
<<-Back to Healthy herbs from Basil herb. Please visit here for an impressive list of healthy herbs with complete illustrations of their nutrition facts, medicinal properties, and health benefits.
<<-Back to Home page

Visit here for very informative pages on:-
Further Resources:
1. USDA National Nutrient Database. (opens new window)
2. Stanford School of Medicine Cancer information Page-Nutrition to Reduce Cancer Risk (Link opens in new window).