Selection and storage
Hen-of-the-woods sold as a specialty produce in the supermarkets in closed packs and cans. Fresh maitake can also be found in the farmers' markets during the season. Air-dried maitake and powder in air-seal packs are also sold throughout the year.
It keeps well when placed between 3-6 degrees for many weeks. Dried mushroom sections can be stored for several months and retain their fleshy texture when rehydrated.
Preparation and serving methods
Maitake mushrooms impart earthy, woody flavor to the recipes. Its fleshy, chewy texture goes well in flavorful savory recipes. Dry sections of maitake can b easily reconstituted by soaking them in lukewarm water for 30 minutes. When the rehydrated maitake becomes plump and fleshy, they can be ready to use in the recipes.
Use them along with their soaking water in soups or sauces.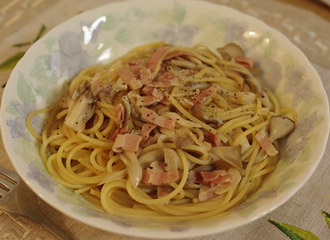 maitake bacon spaghetti recipe. pelican
Here are some serving tips:
In mainland China and Japan, maitake consumption is usually driven by their widely accepted immune-boosting and medicinal properties.

Maitake mushroom imparts a special woody flavor when used in chicken and meat dishes.

They can be a great replacement for other foraged mushrooms like oyster, chicken of the woods, etc.

Sauteed maitake slices can be simply enjoyed as a side dish.

Maitake sections complement well in soups and sauces and work well with rice, pasta dishes, eggs, tofu, etc.

Fine sliced maitake can also be tastier in pizza, and potpie preparations.

Dried maitake powder can be added to enhance the flavor of soups and gravies, minced meat dishes.
Safety profile
Handling and consuming maitake mushrooms may elicit hypersensitivity reactions, particularly in some sensitive persons. Inhalation of G. frondosa spores by persons who work indoors in mushroom farms may develop serious allergic alveolitis and mushroom workers lung disease.
Workers in these farms are advised to wear masks to limit spore inhalation and to seek medical help if develop signs and symptoms such as cough, breathing difficulty, rhinitis, etc. (Medical disclaimer).
≻≻-Back to Mushrooms from Maitake mushroom. Visit here for an impressive list of edible mushrooms with complete illustrations of their nutrition facts and health benefits.
≻≻-Back to Home page.

Further reading and Resources:
---
---