Buying
Classical Cypriot halloumi is manufactured from sheep's or goat's milk from the breeds native to the region. The European Union recognizes traditional Cyprus halloumi as a product of Protected Designation of Origin (PDO).
It is nowadays increasingly being manufactured by using cow's milk or a combination of sheep/goat's milk to satisfy consumer demand.
Halloumi/Hellim is a semi-hard, white cheese with elastic, squeaky texture and neutral flavor. Its body is compact with no holes and has no obvious rind.
It characteristically has a high melting point, allowing it to be grilled, pan-seared, or fried.
Look for the date of manufacture, packing, and use-by while buying.
Halloumi samples that conformed to the Cypriot standards for full-fat (25.75 ± 3.14%), reduced-fat (at least 25% fat reduction from full-fat), and low-fat (at least 50% fat reduction from full-fat).
Storing
Un-opened halloumi can store below 0°C for many months. If you any left-over halloumi you bought an air-seal pack from a grocery, store it in home-made brine and place it in the refrigerator for using in next 2-4 weeks.
Once opened, it should be kept in the fridge for use in next 5-7 days, like feta.
Food uses
Halloumi's main characteristic is that it withstands heat and has a high melting point. Cooking also removes its saltiness to a great extent and produces a crunchy crust on the outside and a soft texture inside with an appealing milky flavor.
It is an ideal cheese for frying or for grilling. It is also consumed directly or in salads.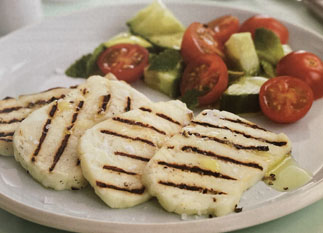 Halloumi cheese- grilled.
The halloumi can also be consumed fresh at room temperature in cheese platters, appetizers and sandwiches, topped on bread, salads, pizza, or pie, and even grated on a fresh pasta.

Traditionally, Cypriots enjoy halloumi served in a watermelon salad during summer months due to its crispy, squeaky texture and salty and fresh lactic flavor.

It is one of the cheeses employed in Saganaki, a pan-fried Greek appetizer.
Safety profile
Halloumi cheese is one of very high sodium and fat content dairy items in common with other brined cheeses like feta or domiati.
High salt diet may cause water retention and elevated blood pressure.
Halloumi composes about 15g of saturated fats/3.5 Oz, making it one of the high saturated fat food items. Saturated fats raise your LDL (bad) cholesterol which increases the risk for heart disease and stroke.
(Medical Disclaimer: The information and reference guides on this website are intended solely for the general information of the reader. It is not to be used to diagnose health problems or for treatment purposes. It is not a substitute for medical care provided by a licensed and qualified health professional. Please consult your health care provider for any advice on medications.)
≻≻-You may also like to read
≺≺-Back to Dairy products from Halloumi cheese nutrition facts.
≺≺-Back to Home page.
Further Resources:
Composition of foods integrated dataset (CoFID). (Excel sheets-Sl No-617, opens in new window).

The characterization of the physicochemical and sensory properties of full-fat, reduced-fat, and low-fat ovine and bovine Halloumi: - American Dairy Science Association (opens in new window).

Halloumi cheese-the product and its characteristics . (Pdf-opens in new window).
---
---