Custom Search
Sorrel nutrition facts
Sorrel, particularly French sorrel (also popular as buckler-leaf sorrel), is one of the most sought after greens in the Mediterranean region. Binomially, it belongs to the polygoneceae family of plant species that also includes common sorrel, patience dock, buckwheat, etc.
Scientific name: Rumex scutatus (Buckler leaf type).
R. scutatus found n the wild in many parts of northern Asia and Europe. It grows under variety of soil conditions ranging from sandy to loamy soils, but profusely under well-drained, moist, sandy soils.
| | |
| --- | --- |
| | |
| Sorrel-broadleaf (Rumex acetosa). Note for elongated, broad leaves. Photo courtesy- HooksgreenHerbs.com | Sorrel-buckler leaf (R. scutatus). Note for shield like green leaves. Photo courtesy- HooksgreenHerbs.com |
There are two principal varieties of sorrel grown as potherb. Common sorrel or "Garden sorrel" (Rumex acetosa) has large, deep-veined, elongated arrow-like tender leaves. French sorrel (Rumex scutatus) has smooth, shield-shape, less acidic leaves. The other uncommon type is R. sanguineus or red-veined sorrel
The plant grows to about 2 feet in height in clumps with pink flowers in racemose appearing during early summer.
R. scutatus used frequently as potherb for its nutritious, less oxalic acid leaves across the Western Europe and in the Americas. Trim flowerng spikes as they appear for better green harvest.
Health benefits of Sorrel
Selection and storage
Although sorrel can be available around the year, it is at its best during spring to early summer. Inside Europe, fresh sorrel is available from March till September. In the farmer markets choose firm, shiny green leaves with thin petiole. Avoid yellow, wilted, large leaves with prominent veins.
Like any other greens, wash sorrel clumps thoroughly in clean running water and rinsed in salt water for about 30 minutes in order to remove dirt, and any insecticide residues.
Fresh herb should be used early to get maximum nutrition. To store, keep wrapped in damp towel and place inside the refrigerator for extended use (up to 3 dys).
Preparation and serving methods
To prepare, wash fresh leaves in cold water. Gently pat them dry using tissue or soft cloth. Trim away any thick petioles.
Sorrel can be eaten raw or cooked. Its acidic, lemony tang leaves are refreshing additions in salads and soups. Young tender leaves preferred in salads and sandwiches. Large leaves can be cooked and prepared in the same way as spinach or cress.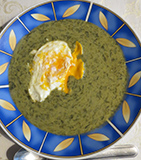 Garden sorrel soup with eggs. Photo courtesy-Sikeri
Here are some serving tips:
Safety profile
<<-Back to Vegetable Nutrition from Sorrel. Visit here for an impressive list of vegetables with complete illustrations of their nutrition facts and health benefits.
<<-Back to Home page.
Click this link to visit very informative pages on:-
Further Reading: