Custom Search
Jalapeno peppers nutrition facts
Jalapeno peppers are one of the favored varieties of chili peppers used in the North American cuisine, especially in the Southern states, where Tex-Mex cuisine is popular. Just as in other chili peppers, jalapenos too originated in the Mexico. In fact, the name "jalapeno" derived from Xalapa, a provincial capital in the Eastern Mexican Veracruz state, where early settlers cultivated the crop for centuries. Later, it was introduced to the rest of the world through Spanish explorers.
Botanically, jalapenos are fruit pods from the nightshade family (Solanaceae), in the genus, Capsicum. Scientific name: Capsicum annuum.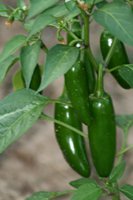 Jalapeno chili peppers.
Photo courtesy: Ken Cook
Jalapeno is a perennial small herbaceous plant with a woody stem growing up to a meter in height. It grows well under fertile, well-drained soil conditions. Adequate sunlight and moisture requirements are the other main factors influencing foliage, flower, and fruiting conditions. The plant bears tiny, white flowers after about 45 days after transplantation and green pepper pods after about 60 days. Mature jalapenos exhibit small cracks around the shoulders of the fruit. Harvesting ripe red fruits (chipotle) may last for several months.
The pods measure about 4-10 cm in length and feature smooth, shiny skin with blunt, slightly tapering tip. Inside, each fruit features numerous tiny, white, circular, and flat seeds. The seeds cling on around the central, white-placenta. As in other chili peppers, jalapenos also have a strong spicy taste that comes to them from certain active alkaloid compounds; capsaicin, capsanthin, and capsorubin. On the Scoville scale hotness scale, jalapeños fall in medium-hot range 2,500-4,000 "Scoville heat units" (SHU). On comparison, sweet bell peppers have zero units, and Mexican habañeros have 200,000 to 500,000 units.
Health benefits of jalapeno peppers
Selection and storage
Fresh green and ripe jalapeno peppers can be readily available in the US markets all around the season. During winter months, they imported from Central American countries, especially from Mexico. You may find organic pods in the local farmer's markets.
Buy fresh, green, firm uniform sized peppers featuring smooth, shiny skin and blunt ends. It is fine to have white markings on the shoulder ends for jalapenos. Avoid dry, wilt, and pods with cracks, cuts and surface bruising.
At home, store them in a vegetable compartment inside the refrigerator set at high relative humidity. They keep well for up to a week. Pickled jalapenos can be stored for several months when stored in the frige.
Preparation and serving methods
To prepare, wash them in cold water, and mop dry using a soft absorbent towel. In general, wear gloves while handling hot variety chili peppers. Remove the stem. Chop or slice as you wish. Discard the seeds and central white placenta, if in case, to avoid excess hotness. Grilling under mild heat also reduces their hotness in addition to imparting smoky flavor.
Jalapenos have successfully made an inroad into the US households since their usage found several interesting variations in cuisine like Tex-Mex cuisine (Texas-Mexican cuisine). Raw green, grilled, smoked, pickled jalapenos employed in a variety of Latin American, Spanish, Caribbean, and Asian cuisines.
Here are some serving tips: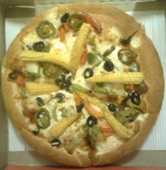 Pizza with jalapeno peppers, baby corn, and black olives topping.
Safety profile
As in other hot chili peppers, jalapenos also contain an active component in them, capsaicin, which gives strong spicy, pungent character. Even a few bits may cause severe irritation and burning sensation in mouth, tongue, and throat.
<<-Back to Spices from Jalapeno peppers. Please visit here for impressive list of healthy herbs with complete illustrations of their nutrition facts, medicinal properties, and health benefits.
<<-Back to Home page.

Visit here for very informative pages on:-
Further Resources:
1. USDA National Nutrient Database. (opens in new window)
2. Gernot-Katzer's spice pages. (Opens in new window)